Boneless Beef Rib Roast With Herb Crust
by
, September 15, 2017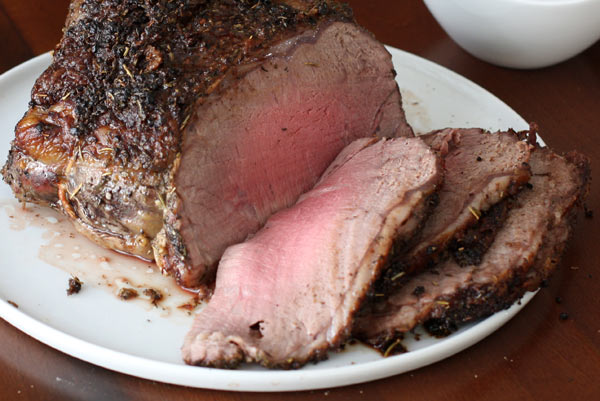 A simple herb and garlic crust adds fabulous flavor to this easy oven roasted boneless rib roast. This roast makes a great holiday meal or Sunday dinner. Slice the roast and serve it with mashed potatoes and your family's favorite vegetable side dishes. Use the leftovers for a cottage pie or sandwiches.
Related:
Roast Beef With Red Wine Sauce
Prep Time: 15 minutes
Cook Time: 1 hour
Total Time: 1 hour 15 minutes
Ingredients:
Instructions:
Preheat oven to 350 F.
Pat the roast dry with paper towels.
Combine the olive oil and garlic; rub all over the roast.
Combine the pepper and herbs; spread the mixture out on a sheet of wax paper or parchment paper. Roll the roast in the herb mixture to coat thoroughly.
Tie roast with 3 lengths of kitchen twine, if necessary.
Place the roast on a rack in an open roasting pan. Roast for about 1 hour, or 15 to 18 minutes per pound. Look for a temperature of about 135 F for medium-rare or 145 F for medium.
Remove from oven, tent loosely with foil, and let rest for 5 minutes.
Slice the roast thinly and serve.
Makes 8 servings.
Site Search