Scrambled Egg Croissant Sandwich
by
, August 23, 2017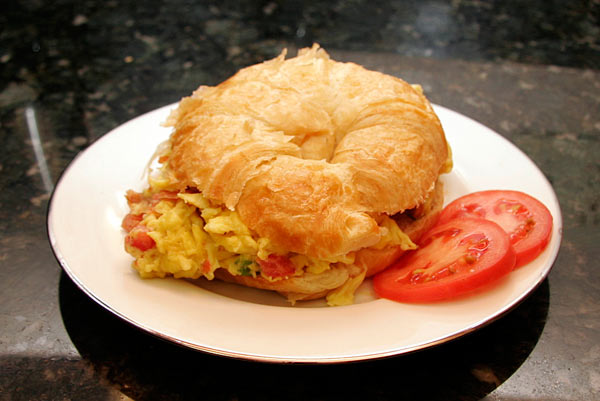 These easy egg sandwiches are perfect for the back-to-school bunch. They travel well and are full of flavor. They're made with croissants, but English muffins or baked buttermilk biscuits may be used instead.

The egg mixture is versatile as well. For picky eaters, you might want to leave the chopped onion and tomato out, or add some bell pepper for extra color and flavor. The meat is optional, too. Omit meat altogether or add sliced cooked link sausage or bacon instead of ham. Add a slice of cheese if you like.
Related:
Individual Breakfast Casseroles
Prep Time: 5 minutes
Cook Time: 6 minutes
Total Time: 11 minutes
Ingredients:
Instructions:
In a medium bowl, whisk the eggs with the milk, green onion, tomato, and ham. Add a dash of salt and a dash of black pepper.
Melt the butter in a small skillet over medium-low heat. When butter is hot, add the egg mixture; cook until slightly set around edges. Begin turning the edges inward with a spatula, turning over when the bottom is set.
When the eggs are set and firm, place them on half of the split croissant (or English muffin) and top with the other half.
Makes 1 Servings
Site Search