Chocolate Stout Cupcakes
by
, October 24, 2017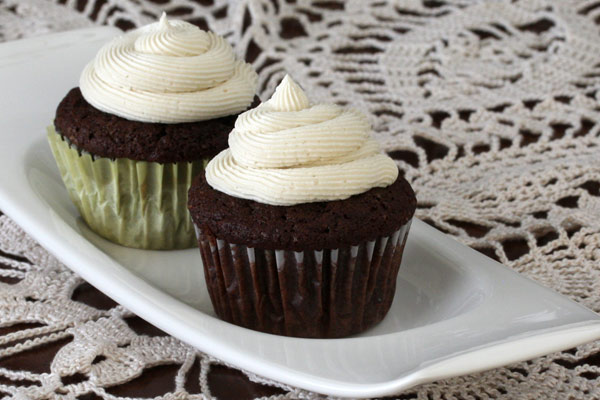 These chocolate stout cupcakes can be made with coffee or chocolate stout. Frost them with the Irish cream frosting or make cream cheese frosting. Add them to your St. Patrick's Day dinner menu. Feel free to use water or coffee instead of stout.
Related:
Moist Vanilla Cupcakes
Prep Time: 15 minutes
Cook Time: 18 minutes
Total Time: 33 minutes
Ingredients:
Instructions:
Line 18 muffin cups with cupcake papers.
In a small saucepan, combine the chocolate or coffee stout and the butter. Place the saucepan over medium-low heat and cook until butter has melted, stirring constantly. Bring to a simmer. Remove from heat and add the cocoa powder, whisking until smooth. Set aside to cool to room temperature.
In a bowl, combine the flour, granulated and brown sugars, baking soda, and salt. Whisk or stir until thoroughly combined.
Heat oven to 375 F.
In a mixing bowl with an electric mixer, beat the eggs with the buttermilk and vanilla until well blended. Add the cooled chocolate mixture and beat until well blended. Stir in the flour mixture; beat on low speed just until smooth and well blended.
Fill cupcake papers about two-thirds full.
Bake the cupcakes for 16 to 19 minutes, or until a toothpick inserted into the center of a cupcake comes out clean.
Cool the cupcakes in the pan for 10 minutes, then transfer the cupcakes to a rack to cool completely.
Makes 18 servings.
Site Search