Tamale Spoon Bread Casserole
by
, Updated April 16, 2017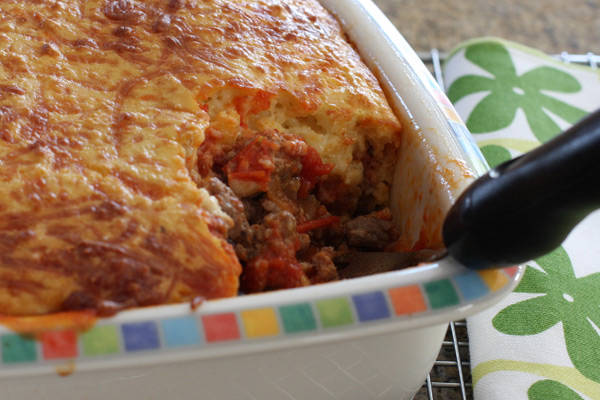 This flavorful ground beef casserole contains peppers, corn, tomatoes, and a spoonbread topping.
Prep Time: 22 minutes
Cook Time: 50 minutes
Total Time: 1 hour 12 minutes
Instructions:
Heat the oven to 375 F.
Heat olive oil in skillet; cook the ground chuck for about 5 minutes. Add the onion, garlic, and green pepper to the skillet; cook, stirring, until onion is tender.
Stir in 1/2 cup cornmeal mixed with the 1 cup water; cover and simmer for 10 minutes. Stir in tomatoes, corn, salt, chili powder, and pepper; simmer for 5 minutes longer. Add olives; spoon into a 3-quart casserole.
In a saucepan, heat the milk with 1 teaspoon salt and butter; slowly add in 1/2 cup cornmeal; cook, stirring, until thickened. Remove from heat and stir in cheese and eggs. Pour over meat mixture.
Bake for 30 to 40 minutes. Or, prepare casserole early in the day and refrigerate for several hours. Bake chilled casserole for about 1 hour, or until hot and bubbly.
Serves 6

Calories per serving:

436
Site Search