Pepper Steak with Noodles
by
, Updated April 10, 2017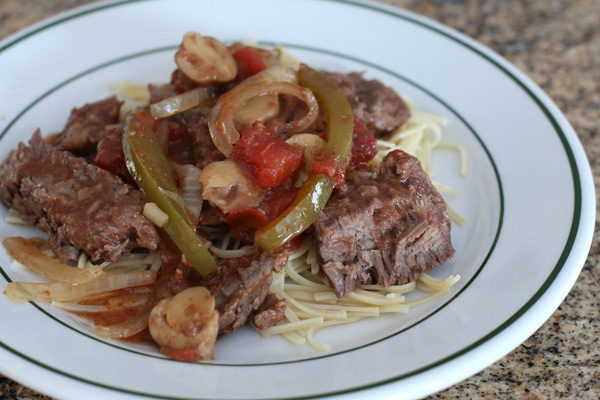 Pepper Steak is made with sirloin tip or round steak, served over noodles with Cheddar cheese. Add mushrooms along with the bell peppers if you'd like.
Prep Time: 15
Cook Time: 25 minutes
Total Time: 40 minutes
Instructions:
In a skillet, melt butter; add beef strips and sprinkle with garlic powder. Saute, stirring occasionally, until browned.
Remove meat from skillet; add onion and green bell pepper and saute for 2 minutes. Return meat to the skillet along with tomatoes and bouillon cube. Cover and simmer for 5 minutes if using the sirloin tip cut, 15 to 20 minutes if using round steak.
Blend together the cornstarch, water, soy sauce, sugar, and salt. Add to meat mixture and cook, stirring constantly, until thickened. Reduce heat and cook for 2 minutes longer.
Meanwhile, prepare noodles. Cook noodles according to package directions; drain.
Toss hot pasta with the shredded Cheddar cheese. Serve pepper steak with the Cheddar noodles.
Serves 6

Calories per serving:

430
Site Search