Holiday Sugar Cookies With Easy Royal Icing
by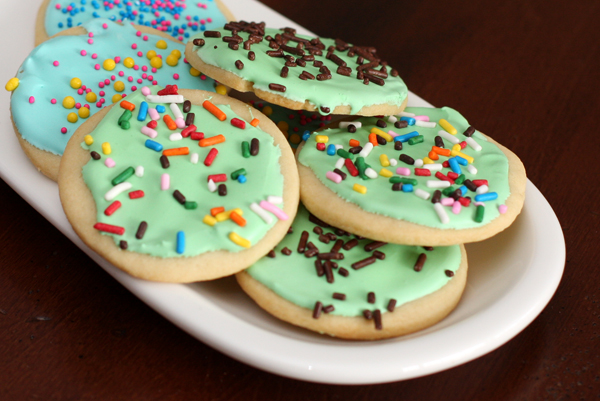 These sugar cookies are perfect for a holiday or special occasion. Add colors to the royal icing and decorate with candies or sprinkles. The pictured icing was made with King Arthur Flour Meringue Powder.
Related:
Chewy Sugar Cookies
Ricotta Cookies With Brown Butter Icing
Prep Time: 15 minutes
Cook Time: 7 minutes
Total Time: 22 minutes
Ingredients:
Royal Icing
Instructions:
Combine the flour, baking powder, and salt in a bowl; stir or whisk to blend thoroughly. Set aside.
In a mixing bowl with an electric mixer, beat the butter and 1 1/2 cups of confectioners' sugar together until smooth and creamy. Add the 1 1/2 teaspoons of vanilla extract, the almond extract, and the egg. Beat until well blended.
With the mixer on low speed, gradually add the flour mixture to the mixing bowl until blended.
With floured hands, gather the dough into two disks and flatten slightly.
Wrap the disks in plastic wrap and chill for 45 minutes to 1 hour.
Heat the oven to 375 F.
Line baking sheets with parchment paper.
On a lightly floured surface, roll each disk of dough out to about 1/8-inch in thickness.
Cut out cookies and arrange on the prepared baking sheets.
Bake for 6 to 8 minutes, until set and just lightly browned on bottoms.
Cool on a rack and frost with the royal icing (below) or another cookie icing.
Icing
In a mixing bowl with an electric mixer, beat the 2 1/4 cups of confectioners' sugar with the meringue powder and water until the mixture is glossy and stiff peaks form (about 6 minutes). Beat in the 1/2 teaspoon of vanilla and corn syrup.
Divide the mixture among small bowls. Add colors as desired and mix well.
Spread the icing on the cooled cookies and sprinkle with colored sugar, sprinkles, or small candies, as desired. The icing hardens quickly, so sprinkle as you frost.
After the icing has set, store the cookies in an airtight container at room temperature.
Makes 48 servings.
Site Search