Meaty Neapolitan Pasta With Sausage
by
, August 12, 2017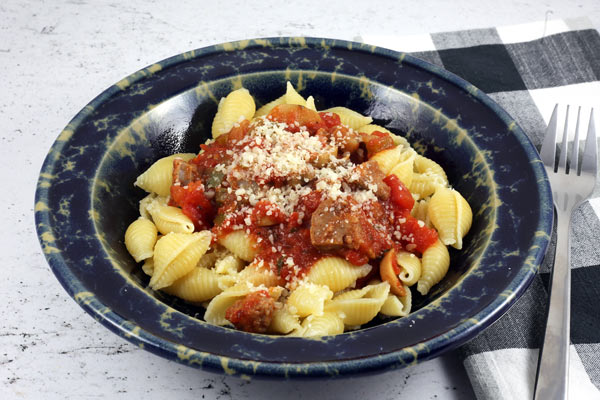 Italian sausage is featured in this tasty Neapolitan pasta recipe. The pasta sauce is flavored with diced sausages, basil, garlic, and optional mushrooms. This Neapolitan pasta is a symphony of color and flavor.
Related:
Bolognese Sauce Recipe
Prep Time: 20 minutes
Cook Time: 50 minutes
Total Time: 1 hour 10 minutes
Ingredients:
Instructions:
Put the sausages in a large skillet over medium-low heat. Cook, turning, until cooked through. Remove the sausages and slice or dice. Drain off any excess fat from the skillet.
Add about 2 tablespoons of olive oil to the same skillet and place it over medium heat. Add the chopped bell peppers, onions, and celery and cook for about 4 to 5 minutes, or until tender. Add the crushed tomatoes and diced tomatoes along with the garlic and basil. Add salt and pepper, to taste. Bring to a simmer and lower the heat; simmer for about 30 minutes.
Meanwhile, cook pasta in boiling salted water following the package directions. Drain.
Serve the pasta with the sauce. Serve with Parmesan cheese.
Makes 4 Servings
Site Search