Baked Halibut With Curry and Green Onion Topping
by
, June 18, 2017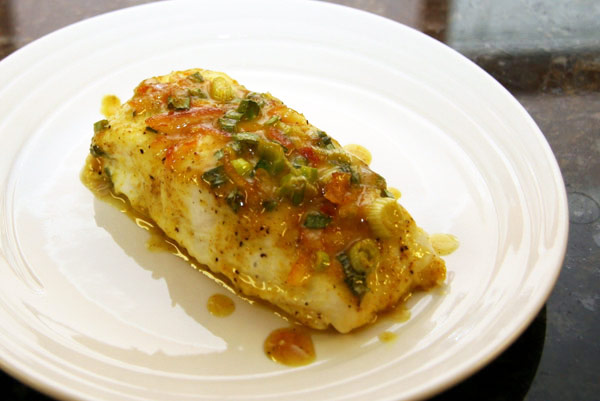 These halibut fillets are baked to perfection with a bright and delicious green onion and curry sauce. The sauce is sweetened with orange marmalade. A combination of curry powder, Dijon mustard, and mayonnaise round out the flavors beautifully.

Some side dishes that go well with halibut include roasted or baked potatoes, leeks, tomatoes, cabbage, cucumbers, and rice.
Prep Time: 15 minutes
Cook Time: 15 minutes
Total Time:30 minutes
Ingredients:
Instructions:
Preheat the oven to 400 F.
Line a rimmed baking sheet with foil.
Arrange the halibut fillets in the pan, skin side down. Sprinkle the fish fillets lightly with salt and pepper.
In a small bowl, combine the mayonnaise, mustard, marmalade, curry powder, and the scallions. Spoon the mixture evenly over the tops of the fillets.
Bake for about 15 minutes, or until fish flakes easily with a fork.
Garnish the fish fillets with sliced scallion tops or cilantro.
Makes 4 Servings
Site Search