Fried BBQ Chicken Wonton Appetizer
by
, October 2, 2017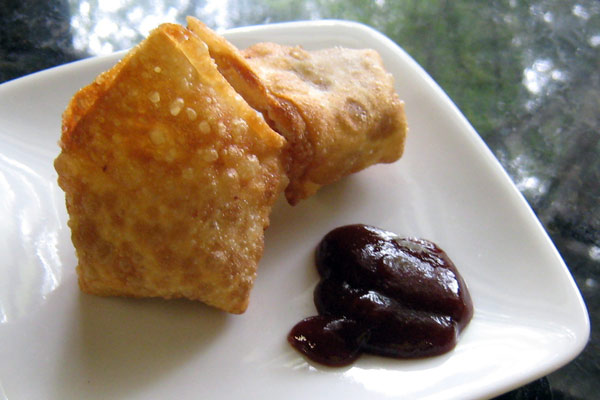 These delicious little wonton appetizers are fried to golden perfection. Mince the chicken filling ingredients by hand or use a food chopper or processor.
Related:
Pork Dumplings with Simple Dipping Sauce
Prep Time: 20 minutes
Cook Time: 20 minutes
Total Time: 40 minutes
Ingredients:
Instructions:
Heat the oven to 200 F.
Place a rack on a rimmed baking sheet.
Mince the chicken and put it in a bowl. Add the Cajun seasoning, chopped scallions, and salt and pepper along with the 3 tablespoons of barbecue sauce; mix well to combine.
Mound 1 teaspoon of the chicken mixture in the center of a wonton wrapper. Lightly dab water all around the edge of the wrapper. Fold the wonton over and press the edge all around to seal or follow instructions on the wonton wrapper insert for folding.
Keep the filled wontons covered with a damp dish towel to keep them from drying out, and keep the unused wrappers covered.
Heat oil in a deep fryer to 370 F.
Fry the filled wontons, about 4 to 5 at a time, until golden brown. Remove the fried wontons to a paper towel-lined plate to drain. Transfer to the rack in the baking pan and transfer to the 200 F oven to keep warm.
Serve with barbecue sauce.
Makes about 2 to 2 1/2 dozen appetizers.
Makes 24 to 30 servings.
Site Search