Brown Sugar Bars With Chocolate Chips
by
, May 19, 2017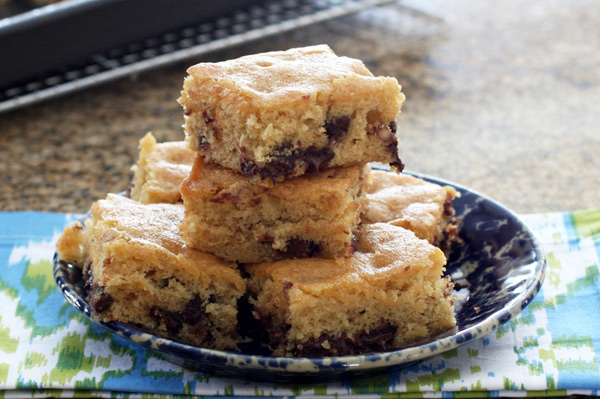 These cake-like brown sugar bars are made with chocolate chips and pecans. Feel free to replace the chocolate chips with chopped dates and coconut.
Prep Time: 15 minutes
Cook Time: 25 minutes
Total Time: 40 minutes
Ingredients:
Instructions:
Preheat the oven to 350 F.
Grease and flour a 10x15x1-inch jelly roll pan or sheet cake pan.
Combine the flour, salt, and baking powder in a bowl; stir to blend and set aside.
In a mixing bowl with an electric mixer on high speed, beat the eggs for about 2 to 3 minutes, until light and foamy. Gradually beat in the vanilla, the brown sugar, milk, and melted butter.
Gradually beat in the flour mixture until well blended. Fold the chopped pecans and chocolate chips into the batter.
Pour the batter into the prepared baking pan.
Bake for 22 to 27 minutes, until nicely browned and a toothpick inserted in the center comes out clean.
Makes About 32 Servings
Site Search