Roast Beef With Pan Gravy
Updated July 1, 2017 by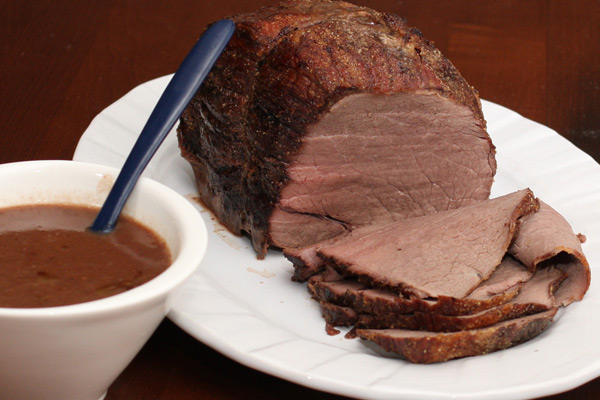 A succulent beef roast makes a fabulous meal any day of the week. This sirloin roast starts in a very hot oven and then cooks slowly for about 2 hours. The pan gravy takes just minutes to make, and it is worth it. Add a little dry red wine to the gravy with the beef stock if you'd like.

Serve the roast and gravy sliced with mashed potatoes and steamed or stir-fried vegetables.
Prep Time: 15 minutes
Cook Time: 2 hours 10 minutes
Total Time: 2 hours 25 minutes
Ingredients:
Instructions:
Heat the oven to 450 F.
Place the beef in a roasting pan and sprinkle lightly all over with the garlic powder, onion powder, a little kosher salt, and freshly ground black pepper.
Roast the beef for 10 minutes at 450 F and then turn the heat down to 275 F. Roast for about 2 hours longer. Check with an instant read thermometer or use a meat thermometer to be sure the roast is done as desired. For medium rare, look for a temperature of about 140 F; the temperature will rise about 5 degrees as it rests.
Remove the roast to a platter and cover it loosely with foil; let it stand for 15 minutes before carving.
To make the easy pan gravy, pour off all but about 2 tablespoons of the drippings in the pan. Put the pan over medium heat on the stove top.
Dissolve 2 tablespoons of cornstarch in the 3 tablespoons of water; stir until smooth.
Pour into the hot drippings and whisk until blended.
Add 2 cups of beef broth. Cook, stirring constantly, until thickened and bubbly.
8 Servings
Site Search