Potato Salad With Bacon and Buttermilk Dressing
Updated July 1, 2017 by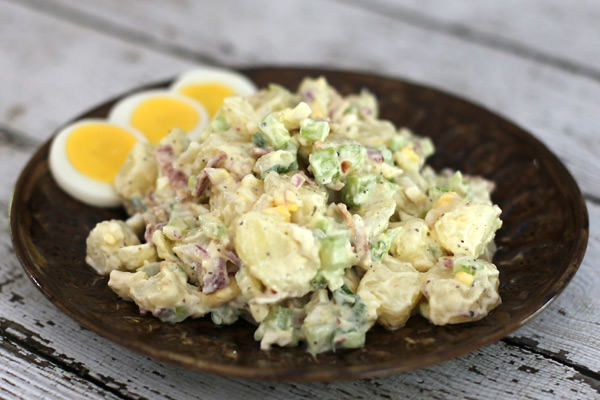 A tangy mayonnaise and buttermilk dressing flavors this delicious potato and bacon salad.
Prep Time: 20 minutes
Cook Time: 15 minutes
Total Time: 35 minutes
Ingredients:
Instructions:
Peel the potatoes, rinse, and then cut them into cubes.
Put the potatoes in a large saucepan with 1 teaspoon of salt. Cover with water and bring to a boil over high heat. Reduce the heat to low, cover, and cook until tender, about 15 minutes. Remove from the heat, drain, and let cool.
Crumble the bacon and chop three of the hard-cooked eggs.
In a large bowl, combine the cooled potato cubes with the crumbled bacon, the chopped eggs, green and red onions, celery, celery seeds, 1/2 teaspoon of salt, and the freshly ground black pepper.
Combine the mayonnaise and buttermilk in a cup or bowl; blend thoroughly.
Gently stir the dressing into the potato and egg mixture until well coated. Taste and adjust the seasonings.
Slice the remaining hard-cooked egg and arrange on the salad for garnish. Sprinkle lightly with paprika.
Makes 6 Servings
Site Search