Mexican Rice
by
, August 22, 2017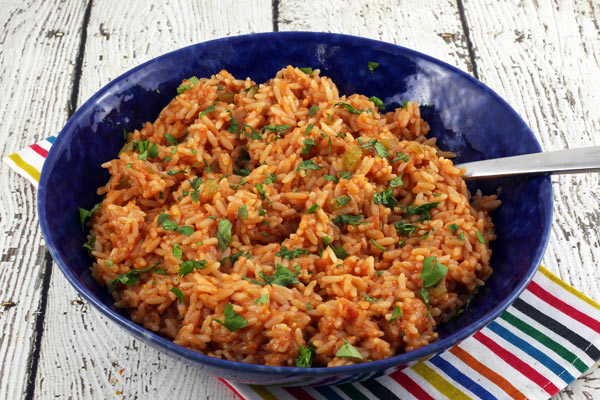 Tomatoes, garlic, cumin, and onions flavor this easy restaurant-style Mexican rice. Use chopped bell pepper or chile peppers in the rice, depending on your heat tolerance. The rice is finished with fresh cilantro, but feel free to leave that out and top it with some chopped green onions or parsley.
Related:
Spanish Rice With Ground Beef
Prep Time: 10 minutes
Cook Time: 20 minutes
Total Time: 30 minutes
Ingredients:
Instructions:
Heat the oil in a large skillet over medium heat. When the oil is hot, add the rice and continue cooking, stirring frequently, for 4 to 6 minutes, or until golden brown.
Meanwhile, combine the tomatoes, onion, and garlic in a food processor or blender. Process until somewhat smooth. Pour the tomato mixture into the rice along with the chicken stock. Add the cumin, salt, and ground black pepper. If the chicken stock was not unsalted, taste before adding salt. Add the diced bell pepper or chile. Bring to a simmer. Reduce the heat to low and cover the pan. Cook for about 15 minutes, or until the rice is tender and the liquid has been absorbed.
Fluff and serve with chopped fresh cilantro.
Makes 4 Servings
Site Search