Meatloaf Recipe
by
, Updated April 10, 2017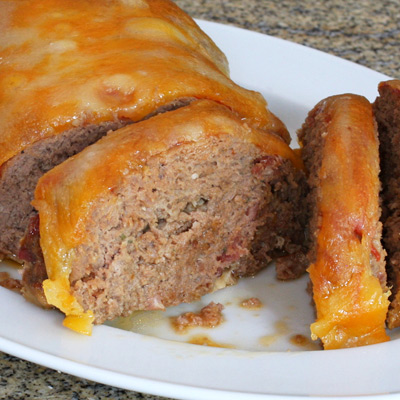 Here's a delicious basic mealoaf with bread crumbs, lean ground beef, and other seasonings. Top this meatloaf with cheese and tomato slices just before it's done.
Prep Time: 10 minutes
Cook Time: 1 Hour 20 Minutes
Total Time: 1 hour 30 minutes
Instructions:
Heat the oven to 350 F.
In a large bowl, combine ground beef, bread crumbs, onion, milk, ketchup, eggs, salt, pepper, and oregano. Mix gently until well blended.
Shape into a loaf (about 8-by-5 inches) in a 9-by-13-by-2-inch baking pan.
Arrange tomato slices on top of the loaf.
Bake 1 hour and 15 minutes.
Place cheese slices, overlapping, over the tomatoes the last 5 to 10 minutes.
Serves 8

Calories per serving (based on 6 servings):

276
Site Search