Macaroni and Cheese With White Cheddar and Fontina Cheeses
by
, Updated April 6, 2017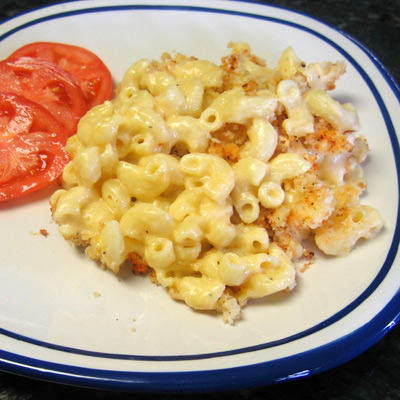 This big batch of macaroni and cheese is perfect for a potluck dinner or family gathering. If you're looking for a recipe for creamy baked macaroni and cheese, this is an excellent choice.
Prep Time: 12 minutes
Cook Time: 40 minutes
Total Time: 52 minutes
Ingredients:
Instructions:
Cook macaroni following package directions; drain and rinse in a colander under hot running water.
Combine the bread crumbs with 2 tablespoons of melted butter; set aside.
Preheat the oven to 375 F. Grease a 9-by-13-by-2-inch baking pan or 3-quart shallow casserole or spray with nonstick cooking spray.
In a saucepan over medium heat, melt the remaining 5 tablespoons of butter. Stir in the flour and cook, stirring, for 1 minute, or until bubbly and smooth. Gradually stir in the milk, then stir in the salt, pepper, nutmeg, and cayenne. Cook, stirring, until thickened. Add the cheeses to the sauce and cook, stirring, until cheese has melted.
Combine the sauce with the cooked and drained macaroni. Spoon into the prepared baking dish and sprinkle with the buttery bread crumbs.
Bake for 25 to 30 minutes, until browned and bubbly.
Serves 8

Calories per serving:

596


Fat per serving:

30.4




More Recipes
Baked Macaroni and Cheese Recipe
Macaroni and Cheese Casserole
Mexican Macaroni and Cheese