Everyday Pancakes
by
, Updated April 6, 2017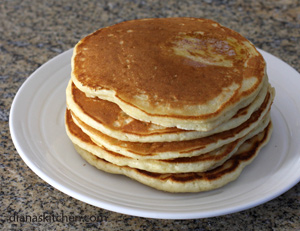 This is a basic, everyday pancake recipe, perfect with butter and syrup. Add a teaspoon of vanilla extract to the batter for extra special flavor.
Prep Time: 5 minutes
Cook Time: 10 minutes
Total Time: 15 minutes
Ingredients:
Instructions:
In a bowl, combine the flour, sugar, salt, and baking powder; whisk to blend.
In another bowl, whisk together the milk, melted butter, and eggs; add to the dry ingredients, stirring just until moistened. Do not overmix the batter.
Rub a large skillet or griddle with oil or shortening; heat over medium heat. Spoon about 3 tablespoons of batter onto the skillet for each pancake. Cook until you see that there are bubbles bursting around the edges of the pancakes, about 1 1/2 to 2 minutes. Flip carefully to cook the other side for about 1 1/2 to 2 minutes longer, or until browned.
While cooking the remaining pancakes, stack pancakes on a heated platter or baking pan. Cover loosely with foil and keep warm in a warming drawer or a preheated 200 F oven. Serve the pancakes hot with butter and syrup.
Serves 4 to 6

Calories per serving (based on 6 servings):

302


Fat per serving (based on 6 servings):

9.4




Similar Recipes
Pumpkin Pancakes
Honey French Toast
Buttermilk Coffee Cake
Yogurt Coffee Cake
Blueberry Pancakes
Spiced Country Pancakes
From Southernfood.about.com:
Basic Pancakes
Buttermilk Pancakes

Site Search