Easy Crockpot Apples
by
, Updated April 6, 2017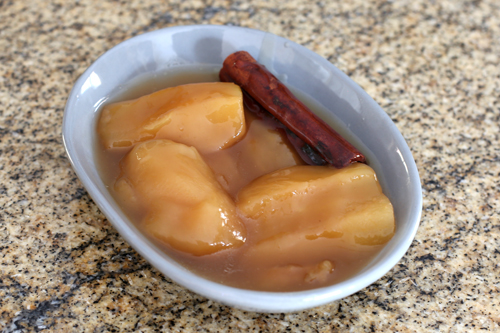 These delicious slow cooker apples make a super easy and delicious dessert. The apples are quartered and cooked with apple cider or juice, brown sugar, and cinnamon. Serve them with some of the syrup and whipped cream. Or serve them warm with ice cream.
Prep Time: 15 minutes
Cook Time: 2 hours
Total Time: 2 hours 15 minutes
Ingredients:
Instructions:
Prepare the apples and put them in the slow cooker.
In a bowl, combine the brown sugar, apple cider or juice, water, cinnamon sticks or cinnamon, and butter. Pour over the apples.
Cover and cook on HIGH for 2 to 2 1/2 hours, or until the apples are tender, stirring 2 or 3 times throughout the cooking.
Pour the juices into a saucepan and bring to a boil on the stovetop. Boil, stirring occasionally, for 8 to 10 minutes, or until reduced by about one-third to one-half.
Reduce heat to a simmer.
In a small bowl or cup, combine the cornstarch and cold water; blend well. Stir the mixture into the simmering liquids.
Continue cooking, stirring, until the syrup mixture is thickened.
Stir in the vanilla.
Serve the apples with the cider sauce.
Serves 4.
Site Search