Chili Meatloaf & Potato Casserole
by
, Updated April 1, 2017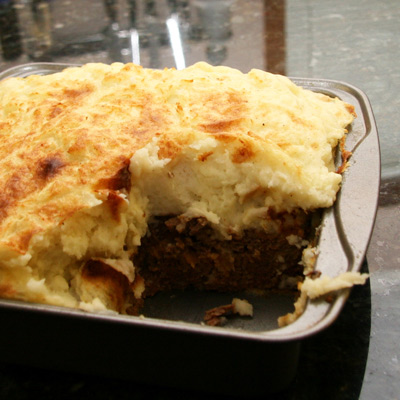 This meatloaf casserole is topped with mashed potatoes, Mexican style corn and cheese. This tasty one dish meal makes a great everyday family supper. Serve with a tossed salad for a fabulous meal.
Prep Time: 20 minutes
Cook Time: 40 minutes
Total Time: 60 minutes
Meatloaf:
Ingredients:
Topping:
Instructions:
Preheat oven to 375 F.
In a large bowl, combine meat loaf ingredients; mix gently but thoroughly. Press the mixture into bottom of a 9-inch square baking dish. Bake for 20 to 30 minutes or until no longer pink.
Pour off drippings.
In a medium bowl combine all topping ingredients except cheese.
Spread over meat loaf to edges of pan; sprinkle with cheese.
Broil 4 to 6 inches from heat for 4 to 6 minutes, or until top is lightly browned.
Serves 6

Calories per serving:

507


Fat per serving:

16.6g



Site Search