Basic Swiss Steak
by
, August 23, 2017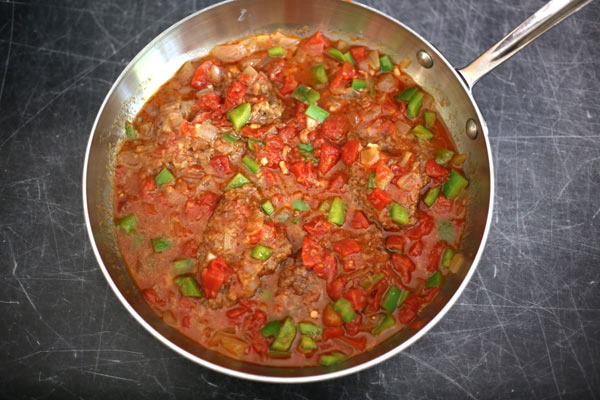 This Swiss steak is made with round steak or cube steak. It's a delicious, old-fashioned beef recipe. Serve Swiss steak with mashed potatoes and corn or carrots.
Related:
Favorite Swiss Steak
Prep Time: 10 minutes
Cook Time: 1 hour 40 minutes
Total Time: 1 hour 50 minutes
Ingredients:
Instructions:
Cut the round steak into four serving-size pieces.
In a shallow bowl, combine the flour, seasoned salt, and pepper.
Sprinkle each piece of beef on both sides with some of the flour mixture. Pound the pieces with a meat mallet or rolling pin to thin slightly and tenderize.
Heat the oil in a large skillet over medium-high heat. Brown the meat well on both sides. Pour off excess drippings.
To the skillet with the beef, add the tomatoes, water or beef stock, garlic, chopped onion, and celery. Bring to a boil. Cover, reduce heat to low, and simmer for about 1 to 1 1/2 hours, until quite tender.
Add the bell pepper to the skillet. Cover and cook for about 15 minutes longer.
Serve with mashed potatoes and corn.
Makes 4 Servings
Site Search