Easy Skillet Swiss Steak
by
, June 1, 2017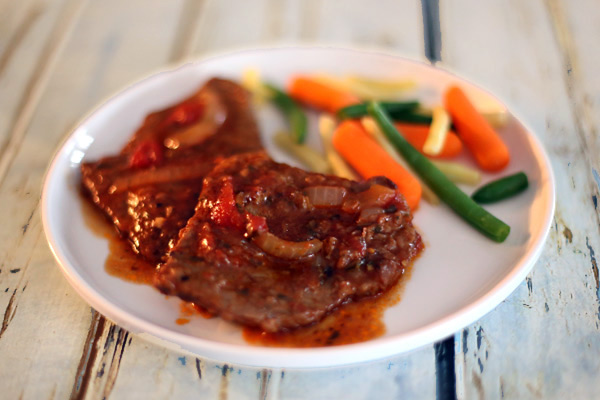 This is a basic, old-fashioned Swiss steak made with garlic, tomatoes, and bell pepper. Serve Swiss steak with mashed potatoes and green beans or your family's favorite side vegetables.
Prep Time: 15 minutes
Cook Time: 1 hour 45 minutes
Total Time:2 hours
Ingredients:
Instructions:
Cut the round steak into 4 to 6 serving-size pieces.
In a bowl, combine the flour, salt, and pepper.
Sprinkle some of the flour mixture on both sides of the steak pieces and then pound with a meat tenderizer.
Heat the oil in a large skillet over medium-high heat; add the steaks and brown on both sides. Remove the steaks to a plate and set aside. Reduce the heat to medium.
Add the onion to the skillet; cook until the onion is translucent, stirring frequently. Add the garlic and cook for about 2 minutes longer, stirring constantly.
Return the steaks to the skillet and add the tomatoes and water or stock. Bring to a boil. Cover, reduce heat to low, and simmer for about 1 hour and 15 minutes to 1 1/2 hours, or until quite tender.
Add the bell pepper to the skillet. Cover and cook for about 15 minutes longer.
Makes 4 to 6 Servings
Site Search