Spinach Casserole With Cheese Sauce
by
, September 10, 2017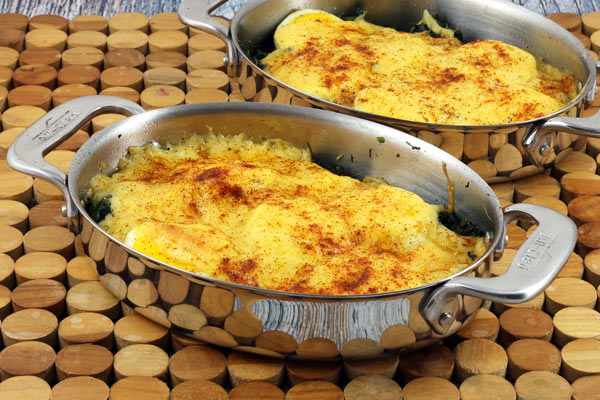 A thick cheese sauce adds flavor to this easy spinach casserole. The spinach is covered with slices of hard-boiled eggs and cheese sauce.
Related:
Spinach Salad with Bacon
Creamed Spinach
Prep Time: 15 minutes
Cook Time: 30 minutes
Total Time: 45 minutes
Ingredients:
Instructions:
Thaw the frozen spinach and squeeze as much moisture out as possible.
Preheat the oven to 350 F.
Lightly butter a 1-quart baking dish.
Place the drained spinach in the baking dish; season with salt and pepper. Arrange sliced eggs over spinach.
In a saucepan, melt 2 tablespoons butter; blend in 2 tablespoons flour. Add salt and dry mustard and cook, stirring, for 2 minutes. Gradually stir in milk. Cook, stirring constantly until sauce is thick. Add shredded cheese and stir until melted.
Pour sauce over spinach and eggs; top with diced bacon, if using. Sprinkle with paprika.
Bake for 25 to 30 minutes, or until hot and bubbly.
Makes 4 servings.
Site Search