Slow Cooker Shredded Beef With Beer BBQ Sauce
by
, September 21, 2017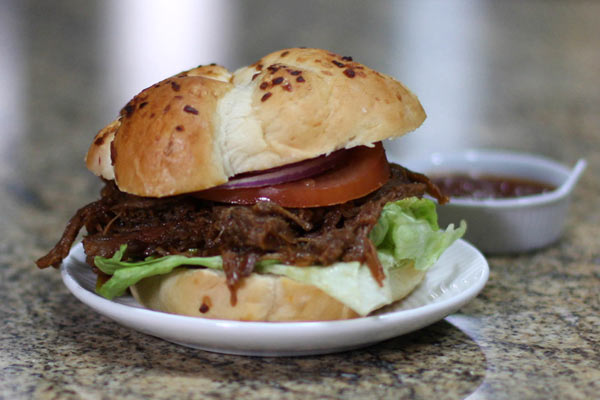 The homemade beer barbecue sauce flavors this easy slow cooker beef perfectly. Serve the barbecue beef in sandwich buns or slider buns or serve it along with mashed potatoes or mac and cheese.
Related:
Crockpot Shredded Beef for Sandwiches
Prep Time: 15 minutes
Cook Time: 7 hours 10 minutes
Total Time: 7 hours 25 minutes
Ingredients:
Beer Barbecue Sauce
Instructions:
Quarter the chuck roast and sprinkle lightly with salt and pepper. Heat 1 tablespoon of vegetable oil in a large skillet over medium-high heat. Add the meat and cook for about 4 minutes on each side, or until browned. Transfer the roast to the slow cooker. Add the beef stock to the pan and scrape up any browned bits. Pour over the roast.
Cover and cook on LOW for 7 to 9 hours (or on HIGH for 4 to 5 hours), or until the beef is very tender and shreds easily.
About an hour before the beef is done, heat the remaining tablespoon of vegetable oil in a medium saucepan over medium heat. Cook the onion in the vegetable oil until tender. Add the beer, ketchup, and all remaining ingredients; bring to a simmer. Reduce heat to low and simmer, stirring frequently, for about 30 minutes, or until thickened and reduced to about 2 cups.
Remove the beef chunks to a platter or large plate; discard liquids. Shred or chop the beef, discarding any visible pieces of fat.
Return the shredded beef back to slow cooker along with about 1 cup of the barbecue sauce; stir to combine.
Cover and cook on LOW for 1 hour.
Serve the shredded beef with split toasted buns and extra barbecue sauce or serve it as an entree with mac and cheese or mashed potatoes.
Makes 12 servings.
Site Search