Roast Turkey With Fresh Sage
by
, May 7, 2017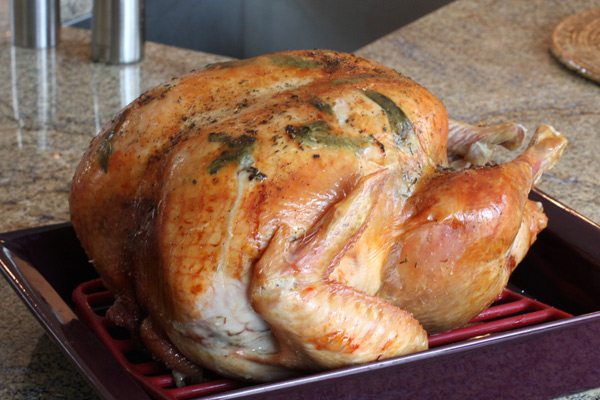 I used fresh sage leaves under the skin of this turkey, but large basil leaves would be excellent as well. Or mix some dried herbs with the butter, chill it, and then force pieces of the herb butter under the skin.
Prep Time: 12 minutes
Cook Time: 5 minutes
Total Time: 17 minutes
Ingredients:
Instructions:
Preheat the oven to 425 F.
Rinse the turkey and cavity with cold water; pat dry with paper towels.
Place the turkey, breast side up, on a rack in a roasting pan. Rub the turkey all over with butter and put several whole sage leaves under the skin. Sprinkle all over and in the cavity with salt and pepper.
Sprinkle lightly with dried sage and thyme.
Using kitchen twine, secure the wings close to the body and secure the ends of the legs together.
Pour about 1/2-inch of chicken broth or water into the bottom of the roasting pan.
Roast the for 15 minutes and then reduce the oven heat to 325 F.
Cover the turkey loosely with foil and roast for about 3 to 4 hours longer, or until a meat thermometer or oven probe registers about 175 F in the inner part of a thigh (not touching bone) or the thickest part of the breast. The minimum safe temperature for turkey (USDA) is 165 F.
If stuffed, the turkey stuffing must reach at least 165 F in the center. Even if the turkey tests done, make sure the dressing reaches 165 F.
Remove the foil about 30 minutes before the turkey is done.
12 Servings
Site Search