Homemade Plum and Peach Jam
by
, October 14, 2017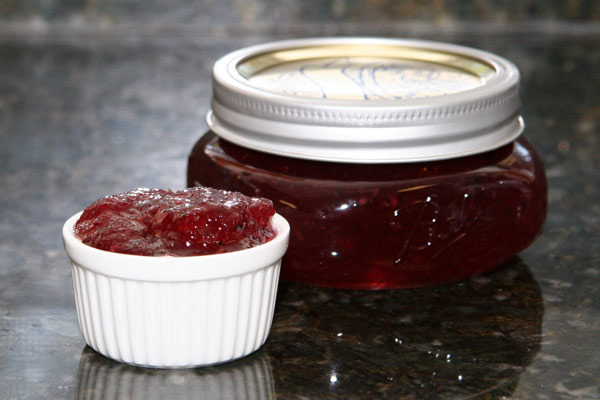 Peaches and plums team up in this easy homemade jam. The jam is made with liquid fruit pectin and makes about 7 half-pint jars.
Related:
Mini Cheesecakes With Fruit Topping
Prep Time: 35 minutes
Cook Time: 2 minutes
Total Time: 37 minutes
Ingredients:
Instructions:
Fill a large canning kettle about half-full. Add the empty jars and bring to a boil; boil gently for 10 minutes and then reduce the heat to low to keep the jars hot.
Fill a saucepan with water and bring to a boil; reduce heat to low and add the flat sealing lids. Keep the lids in hot water (do not boil).
In a large, nonreactive pot, combine the finely chopped or ground peaches and plums, the lemon juice, and the sugar.
Cook, stirring, over medium heat until sugar has dissolved. Bring the mixture to a boil that can't be stirred down. Add the butter, if desired, to keep foaming down. Continue boiling for 1 full minute, stirring constantly. Add the fruit pectin and boil for exactly 1 minute longer, stirring constantly. Remove from heat and skim off excess foam.
Using canning tongs, carefully remove jars from the hot water; drain thoroughly. Fill a jar with the hot fruit mixture, leaving 1/4 inch headspace. Wipe the jar rims and threads with a dampened cloth and place the seal on top. Screw the lid on firmly but not tightly. Repeat with the remaining jars until the jam is all used. Lower the jars into the simmering water and add more hot or boiling water to about 2 inches above the jars. Bring to a boil. Cover the kettle and reduce the heat to keep it at a gentle boil. Boil for 5 minutes. See the chart below for high altitudes (over 1,000 feet).
Remove the jars to a rack. If a jar does not seal, refrigerate it and use it first. Or, reseal and process again.
Makes about 7 pints
Altitude Adjustments
| Altitude Feet | Increase Processing |
| --- | --- |
| 1,001 to 3,000 | 5 minutes |
| 3,001 to 6,000 | 10 minutes |
| 6,001 to 8,000 | 15 minutes |
| 8,001 to 10,000 | 20 minutes |
Site Search