Pasta Salad With Tomatoes, Garlic, and Basil
by
, October 7, 2017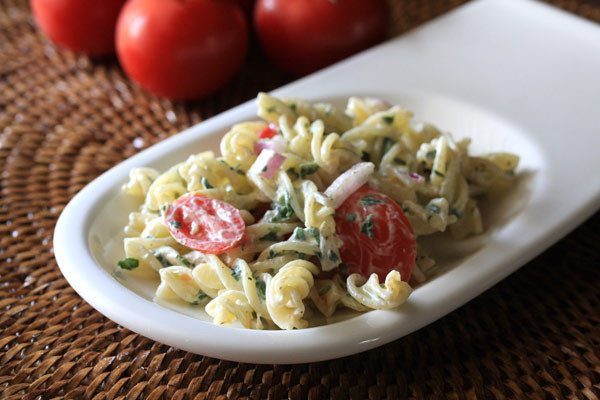 This pasta salad is made with a garlic, mayonnaise, and sour cream dressing along with fresh basil and parsley and grape tomatoes. It's a simple recipe and makes a fabulous summer luncheon salad.
Related:
Pasta Salad With Ham and Peas
Easy Pasta Salad With Celery and Eggs
Prep Time: 15 minutes
Cook Time: 20 minutes
Total Time: 35 minutes
Ingredients:
Instructions:
Cook the pasta in boiling salted water following the package directions. Drain and set aside to cool slightly.
Meanwhile, combine the lemon juice, garlic, 3/4 cup of mayonnaise, and sour cream in a large bowl. Blend well.
Add the warm pasta to the bowl along with the red onion and grape tomatoes. Add the herbs and toss to mix the ingredients thoroughly. Add extra mayonnaise, if desired.
Taste the salad and add salt and pepper, as needed.
Chill thoroughly before serving.
Makes 8 servings.

Tips and Variations

Add sliced ripe olives to the salad.
Site Search