Old-Fashioned Tomato Soup Cake (Mystery Cake)
by
, August 20, 2017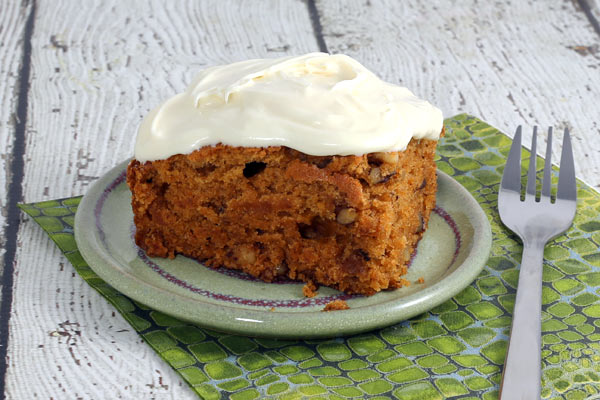 This tomato soup cake probably dates back to the 1930s. Because of the cake's "secret ingredient," it's also known as Mystery Cake. The cake is a moist spice cake with lots of color and texture from the tomato soup, raisins, and chopped nuts. You can scale the recipe by half and bake it in an 8-inch square baking pan.
Related:
Brown Sugar and Pecan Pound Cake
Prep Time: 10 minutes
Cook Time: 40 minutes
Total Time: 50 minutes
Ingredients:
Instructions:
Preheat oven to 350 F.
Grease and flour a 9-by-13-by-2-inch baking pan.
In a large bowl, combine the flour, baking soda, cinnamon, ground allspice, nutmeg, and ground cloves; set aside.
In a large mixing bowl with an electric mixer, beat the butter until light. Beat in the brown sugar until light and fluffy. Add eggs and continue beating until well blended.
Pour the tomato soup into a 2-cup measure; add water to measure 2 cups.
With the mixer on low speed, add the flour mixture to butter and egg mixture (about one-third at a time) alternating with tomato soup mixture and ending with flour mixture. Beat just until combined.
Fold in the chopped nuts and raisins or dates and then spread in the prepared baking pan.
Bake for 55 to 60 minutes, or until cake tests done. A toothpick should come out clean when inserted into the center of the cake.
Cool cake in the pan on a rack for about 30 minutes. Leave it in the pan to cool completely or turn the cake out of the pan onto a rack.
Frost the tomato soup cake with cream cheese frosting or your favorite icing.
Makes 12 to 16 Servings
Site Search