Muenster and Cheddar Mac and Cheese
by
, August 27, 2017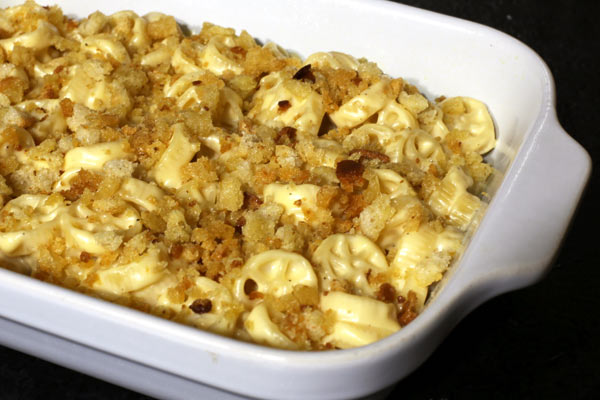 Muenster and cheddar cheeses team up in this creamy baked macaroni and cheese. Buttery panko bread crumbs make a crunchy topping for the casserole.
Related:
Cheesy Wagon Wheel Pasta Bake
Prep Time: 15 minutes
Cook Time: 40 minutes
Total Time: 55 minutes
Ingredients:
Instructions:
Cook the pasta in boiling salted water as directed on the package. Drain well and set aside.
Heat the oven to 375 F.
Lightly butter a shallow 2 1/2-quart casserole.
Melt 5 tablespoons of the butter in a medium saucepan over medium heat. Add the flour, mustard powder, salt, and pepper to the butter and cook, whisking constantly, for 2 minutes. Gradually add the cream or milk and blend thoroughly. Continue cooking, stirring or whisking constantly, until thickened. Add the cheese and cook, stirring, until the cheese has melted.
Combine the cheese sauce and pasta in the pan or a large bowl and blend thoroughly. Spoon the pasta and sauce into the prepared casserole.
Melt the remaining 2 tablespoons of butter and toss with the panko bread crumbs.
Sprinkle the bread crumbs over the pasta and bake for 25 to 30 minutes, until the topping is browned and the casserole is hot and bubbly.
Serve as a side dish or as the main dish with a vegetable side dish.
Makes 6 servings.
Site Search