Mashed Potatoes With Kale
by
, November 06, 2017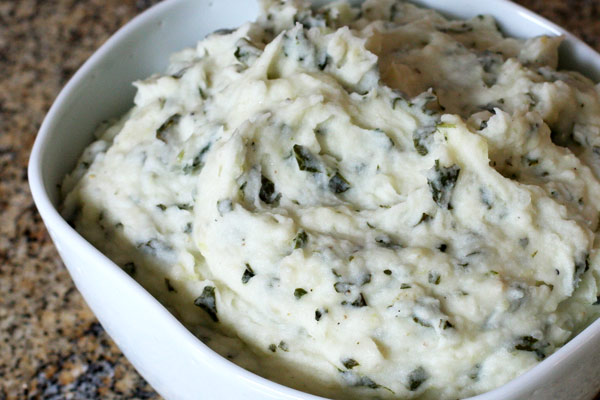 Fresh kale and leeks add color and flavor to these mashed potatoes. The kale and leeks are simmered to tender perfection and then added to the mashed potatoes. Feel free to omit the leeks if you'd like.
Related:
Light Garlic Mashed Potatoes
Kale and Mustard Greens With Bacon
Prep Time: 20 minutes
Cook Time: 30 minutes
Total Time: 50 minutes
Ingredients:
Instructions:
Melt 3 tablespoons of butter in a skillet over medium heat. Saute the leeks, stirring, until wilted. Add the kale and chicken stock. Cover the pan and reduce the heat to low; simmer for about 30 minutes, or until the vegetables are very tender. Add the salt, to taste, and the black pepper. Add the half-and-half or cream; remove from heat and set aside.
Meanwhile, peel the potatoes and cut them into chunks. Rinse the potatoes and put them in a medium saucepan; cover with water and add the remaining 1 teaspoon of salt.
Bring the potatoes to a boil over high heat. Reduce heat to medium-low, cover the pan, and continue cooking until tender, about 20 minutes. Drain the potatoes thoroughly and transfer to a large bowl.
Heat the kale and cream mixture until hot. Add to the drained potatoes along with the remaining 2 tablespoons of butter and mash by hand or with a mixer.
Taste and adjust seasonings.
Makes 6 servings.
Site Search