Light Potato Salad
by
, October 7, 2017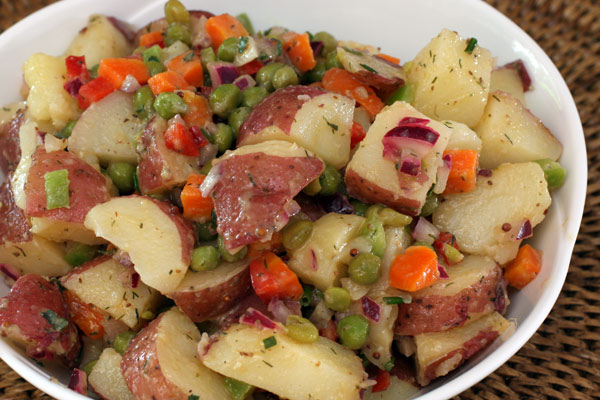 If you're looking for a lighter potato salad, this is a good choice. The potatoes and vegetables are mixed with a light olive oil, Dijon mustard, and lemon juice. Feel free to vary the vegetables in the salad, depending on your tastes. Add more fresh vegetables to the salad, like cucumbers and celery.
Related:
Cajun-Style Warm Potato Salad
Potato Salad With Bacon
Prep Time: 15 minutes
Cook Time: 15 minutes
Total Time: 30 minutes
Ingredients:
Instructions:
Put the cubed potatoes in a medium saucepan and cover with water. Place the pan over high heat and bring to a boil. Reduce the heat to medium, cover the pan, and continue cooking for about 12 to 15 minutes, or just until tender. Drain thoroughly and let the potatoes cool completely.
Meanwhile, steam the frozen vegetables following the package directions; drain. Set aside to cool completely.
In a large serving bowl, combine the potatoes, vegetables, bell pepper, onion, dill, and chives.
In a small bowl or cup, combine the olive oil, lemon juice, and mustard. Drizzle the dressing mixture over the potato salad and toss gently to combine.
Season to taste with salt and pepper.
Makes 4 servings.
Site Search