Glazed Lemon Tea Cakes
by
, August 7, 2017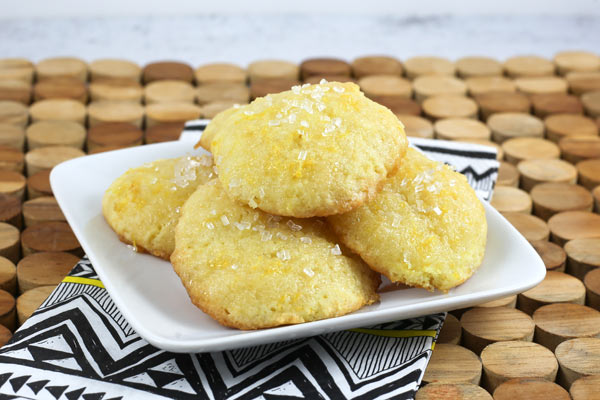 These tea cakes are bursting with fresh lemon flavor. The lemon zest and lemon juice coating mixture flavors the cookies perfectly. Top them with some sanding sugar for a special occasion. They are soft, moist, and delicious!
Prep Time: 8 minutes
Cook Time: 13 minutes
Total Time: 21 minutes
Ingredients:
Lemon Glaze
Instructions:
Preheat the oven to 350 F.
Line baking sheets with parchment paper.
Combine the vinegar and milk in a measuring cup and set aside.
In a mixing bowl with an electric mixer, beat the butter with the granulated sugar until light and fluffy. Add the egg and 3 teaspoons of lemon zest; beat well.
Into another bowl, combine the dry ingredients; stir to blend.
Add the dry ingredients to the creamed mixture, alternating with the soured milk, beating after each addition.
With a teaspoon or small cookie scoop, drop the dough onto the prepared baking sheets, leaving about 2 inches between cookies. Bake at 350 F for 12 to 14 minutes, or until done.
While cookies are baking, make the lemon glaze. In a small saucepan, combine 3/4 cup granulated sugar, the remaining 1 teaspoon of lemon zest, and the 1/4 cup of lemon juice; stir until well blended. Place over medium heat and bring just to a simmer. Remove from the heat and stir to blend thoroughly.
Immediately remove the lemon cookies from baking sheet to wire racks. While the cookies are still hot, brush the tea cakes with the lemon syrup mixture.
Makes about 30 to 36 tea cakes, depending on size.
Site Search