Kentucky Chocolate Chip Walnut Pie
by
, May 6, 2017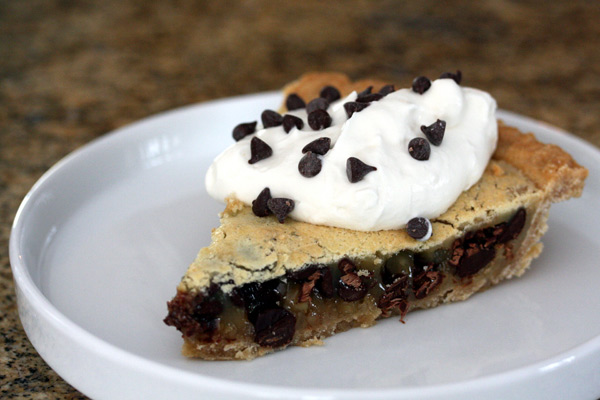 This is the classic Kentucky pie that is essential for a Derby celebration. It is filled with a very easy filling of chocolate chips, walnuts or pecans, and optional bourbon. Serve it with whipped cream or serve it warm with a scoop of ice cream.
Prep Time: 10 minutes
Cook Time: 45 minutes
Total Time: 55 minutes
Ingredients:
Instructions:
Sprinkle the chocolate chips and walnuts in the unbaked pie crust.
In a mixing bowl, combine the light brown and granulated sugars with the eggs, flour, melted butter, and vanilla. Whisk until the mixture is smooth and well blended. If desired, whisk in the bourbon.
Pour the filling mixture over the chocolate chips and nuts.
Bake the pie for about 40 to 50 minutes, or until the filling is set and the crust is browned.
Serve with whipped cream or frozen thawed whipped topping or serve it warm with a big scoop of ice cream.
8 Servings
Site Search