Ham and Pasta Salad With Marinated Artichokes and Olives
by
, September 29, 2017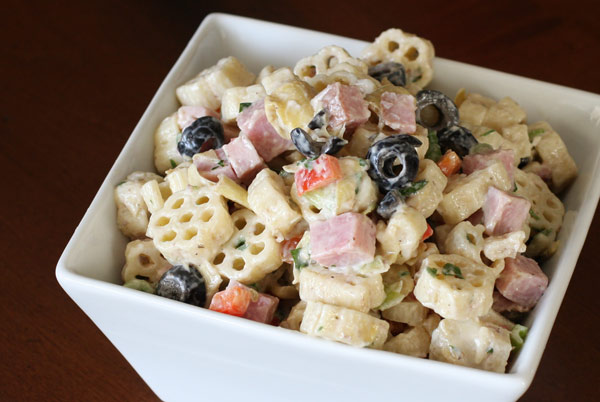 This ham and pasta salad is loaded with flavor. Red bell pepper, marinated artichokes, and sliced ripe olives are among the ingredients. It's a hearty salad and an excellent way to use leftover diced ham.
Related:
Pasta Salad With Ham and Peas
Prep Time: 15 minutes
Cook Time: 9 minutes
Total Time: 24 minutes
Ingredients:
Instructions:
Cook the pasta in boiling salted water following the package directions. Drain well and set aside.
Combine the ham, scallions, artichokes, bell pepper, olives, parsley, salt, pepper, lemon juice, sour cream, and 1/2 cup of mayonnaise. Add the drained pasta to the ham and vegetables and then toss to coat thoroughly.
Add more mayonnaise, as needed, to taste.
Cover and chill until serving time.
Makes 4 servings.
Site Search