Green Tomato Pizza With Garlic and Mozzarella Cheese
by
, October 4, 2017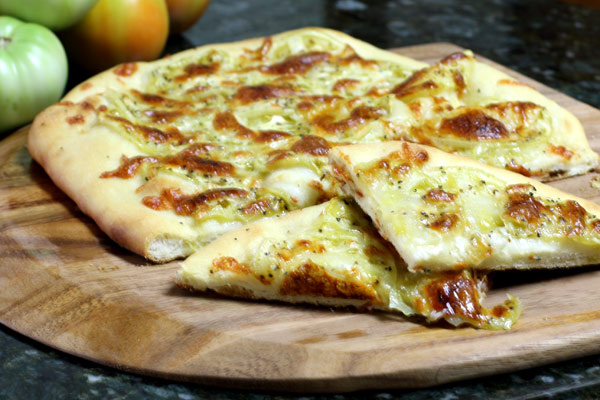 Late season green tomatoes make a fabulous pizza. This recipe uses sliced green tomatoes on a homemade pizza crust with garlic and mozzarella cheese. Add some sliced ripe tomatoes or sliced grape tomatoes for extra color if you'd like.
I made the crust with a stand mixer, but it could just as easily be mixed and kneaded by hand or in the bread machine.
Related:
Easy Pour Pizza
Beer Pizza Crust
Prep Time: 15 minutes
Cook Time: 1 hour
Total Time: 1 hour 15 minutes
Ingredients:
Pizza Crust
Toppings
Instructions:
In the bowl of stand mixer combine bread flour with the 3/4 teaspoon of salt and sugar.
In a small bowl or pyrex measuring cup, sprinkle the yeast over the 1/2 cup of warm water. Let stand until yeast is softened. Add the 4 teaspoons of olive oil and remaining 1/4 cup of water to the yeast mixture. Add the yeast mixture to the dry mixture, stirring with the paddle attachment until well moistened. Attach the dough hook and mix for about 2 minutes.
Oil a large bowl and transfer the dough to the bowl (it will be somewhat soft and still a bit tacky). Turn the dough over so it is well coated with oil. Cover the bowl with plastic wrap and let the dough rise in a warm draft-free place for about 1 to 1 1/4 hours, or until doubled in bulk.
Meanwhile, put the 2 tablespoons of olive oil with the garlic in a saucepan over low heat. Heat until the oil is hot and aromatic. You don't want to cook the garlic, just flavor the oil. Set aside.
Heat oven to 400 F.
Transfer the dough to a floured surface and sprinkle a little flour over the top. Pat or roll the dough into a circle or rectangle about 1/4-inch to 1/2-inch thick, depending on the pan you're using. The shape doesn't really matter. Transfer to a lightly oiled baking sheet or pizza pan.
Brush the dough generously with the garlic and oil mixture.
Arrange the green tomato slices, overlapping slightly, over the dough. Sprinkle lightly with the coarsely ground pepper and kosher salt and then sprinkle cheese over all.
Bake the pizza in the preheated oven for 20 to 25 minutes, until lightly browned.
Makes 4 servings.
Site Search