Basic Chocolate Glaze
by
, July 12, 2017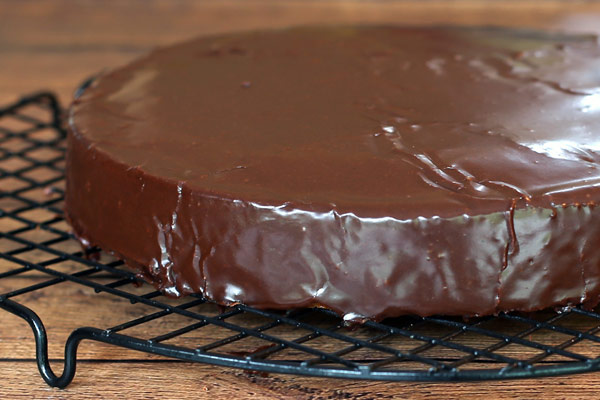 This chocolate glaze is shiny and firms up nicely on cakes or doughnuts. The recipe makes enough chocolate glaze to ice a pan of brownies or a Bundt cake, and it will cover the top and sides an 8-inch or 9-inch single layer cake. It's easily doubled for a larger cake or a big batch of doughnuts or cookies.
Prep Time: 10 minutes
Cook Time: 2 minutes
Total Time: 12 minutes
Ingredients:
Instructions:
Pour about 1 inch of water in a saucepan. Bring the water to a simmer and then turn the heat to low.
Place a metal bowl over the simmering water. Add the chocolate and heat until it has melted.
Meanwhile, bring about 1/4 cup of water to a boil.
Sift the confectioners' sugar and then measure 1 1/2 cups.
With an electric mixer or whisk, beat about 1/2 cup of the confectioners' sugar and 1 tablespoon of the boiling water into the melted chocolate. Repeat with another 1/2 cup of the confectioners' sugar and another tablespoon of boiling water. Beat in the remaining 1/2 cup of sugar and 1 more tablespoon of water.
Add the corn syrup and vanilla and beat until smooth.
The mixture should be thick but pourable. If necessary, add more boiling water, about 1/4 to 1/2 teaspoon at a time, as needed.
Spoon the chocolate glaze evenly over the cake and spread gently.
Makes enough to ice a Bundt cake or cover an 8- or 9-inch one-layer cake.
Makes About 8 to 12 Servings
Site Search