Edible Chocolate Chip Cookie Dough
by
, July 11, 2017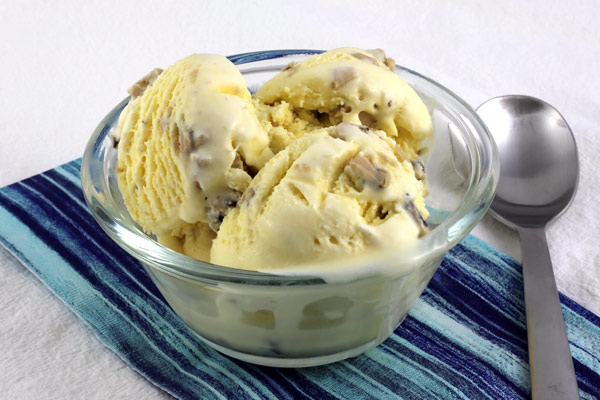 Chill this edible chocolate chip cookie dough and add it to ice cream or shape it into small balls and dip it in chocolate or candy melts.

Because there are reports of sickness from raw flour from time to time, I recommend briefly toasting the flour in the oven. Cool the flour completely before you add it to the butter and sugar mixture. It's an extra step but only takes 5 minutes in the oven.

The two cups of cookie dough should be enough for about 4 quarts of ice cream, depending on how chunky you like it.
Prep Time: 10 minutes
Cook Time: 5 minutes
Total Time: 15 minutes
Ingredients:
Instructions:
Preheat the oven to 350 F.
Spread the flour out on a large rimmed baking sheet or pan and place in the preheated oven for 5 minutes. Remove it to a bowl and let it cool completely. If the flour looks a bit lumpy, whisk it briefly before you add it to the dough mixture.
In a mixing bowl with an electric mixer, combine the butter with the brown sugar. Beat for 3 to 4 minutes, or until light and fluffy. Add the milk, vanilla, and salt; beat until well blended.
When the flour has cooled completely, add it to the creamed mixture. Beat until blended. Fold in the chocolate chips.
Tips

To add the cookie dough to homemade ice cream, roll it out about 1/4 to 1/2-inch thickness between sheets of plastic wrap. Freeze until your ice cream is churning and nearly done. Cut the cookie dough into small squares and then add them to the churning ice cream shortly before it's done. Pack the ice cream into a container and freeze.


Makes About 2 Cups
Site Search