Chocolate Buttermilk Cake With Coconut Pecan Frosting
by
, September 16, 2017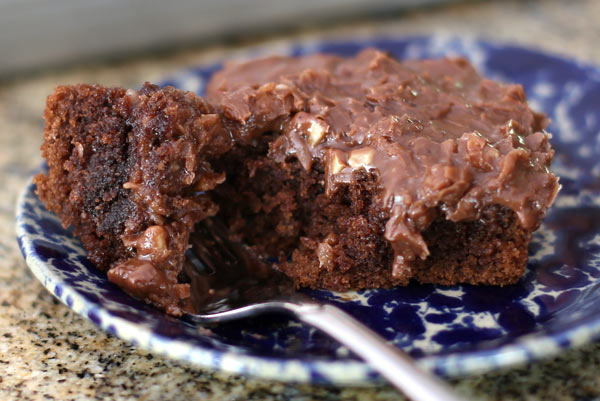 This amazing chocolate buttermilk cake is baked in one layer, and then it's topped with a simple, briefly cooked chocolate frosting. The frosting is filled with coconut and pecan, giving the cake an extra boost of flavor and texture. It's a moist and delicious cake you'll make again and again.
The recipe comes from a vintage newspaper clipping.
Related:
Buttermilk Chocolate Cake With Pecan Praline Topping
Prep Time: 15 minutes
Cook Time: 45 minutes
Total Time: 1 hour
Ingredients:
Chocolate Cake
Frosting
Instructions:
Preheat oven to 350 F.
Grease and flour a 9-by-13-by-2-inch baking pan.
In a large mixing bowl or bowl of a stand mixer, combine the flour, granulated sugar, and salt; whisk or stir to blend thoroughly. Set aside.
In a small saucepan, combine 1/2 cup butter, the shortening, 1/4 cup of cocoa, and 1 cup of water; bring to a boil over high heat. Pour the mixture over the flour mixture. Add the buttermilk, baking soda, eggs, and vanilla. Beat with an electric mixer until smooth. Spoon the batter into the prepared baking pan and spread evenly.
Bake in the preheated oven for 40 to 45 minutes, or until the cake springs back when lightly touched with finger. The cake is frosted while hot, so make the frosting just before the cake is done.
Frosting
Combine 1/2 cup of butter, cocoa, and milk in a medium saucepan. Bring mixture just to a boil over medium-high heat; remove from heat.
Add confectioners' sugar and vanilla to the saucepan and beat with a wooden spoon until smooth. Stir in coconut and pecans.
Spread over hot cake right out of the oven. Cool frosted coconut chocolate cake in pan on a rack.
Makes 24 servings.
Site Search