Coq au Vin
by
, February 5, 2018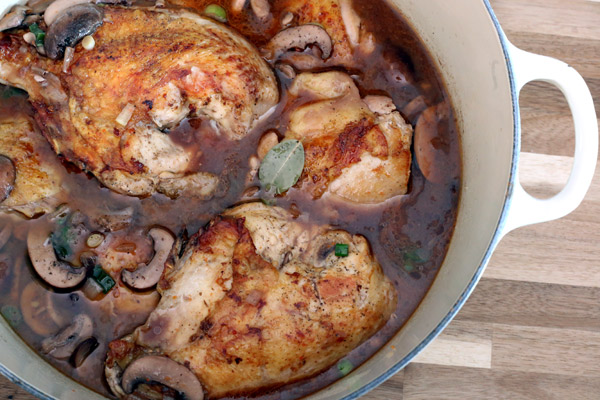 This classic French chicken dish is slowly braised in a combination of dry red wine and chicken stock. The results are moist and tender chicken with amazing flavor. This is a recipe you'll use again and again.

I used chicken breasts and thighs in the dish, but it would be excellent with whole legs as well. Serve the chicken with boiled potatoes and green or wax beans for an incredibly delicious meal.
Related:
Braised Chicken With Apples and Bacon
Prep Time: 25 minutes
Cook Time: 55 minutes
Total Time: 1 hour 20 minutes
Yield:
6 servings

Ingredients:


Instructions:
Wipe the chicken pieces with paper towels to dry. Season with salt and pepper.
Dice the bacon and put it in a large Dutch oven. Place the pan over medium heat. Cook until the bacon is just crisp. Remove the bacon to paper towels and set aside.
Add the butter to the bacon drippings. Working in batches, brown the chicken pieces in the Dutch oven. Remove the chicken to a rack or pan and set aside.
Meanwhile, peel the onion and chop it finely. Wipe the mushrooms with a damp paper towel and slice them.
Pour off all but about 2 tablespoons of fat and ad the chopped onion and mushrooms; saute until the onions are translucent. Add the garlic and continue to cook for 1 minute longer.
Blend in the flour and continue to cook for 2 minutes, stirring constantly. Gradually add the wine and stock. Cook, stirring constantly, for about 5 minutes.
Add the pearl onions to the pot along with the browned chicken pieces, dark pieces first, chicken breasts on top. Cover the pot and simmer over low heat for 30 minutes. Uncover the pot and cook for about 15 minutes longer.
Garnish with parsley chopped parsley, if desired.
Site Search