Moist Carrot Muffins With Raisins and Walnuts
by
, September 30, 2017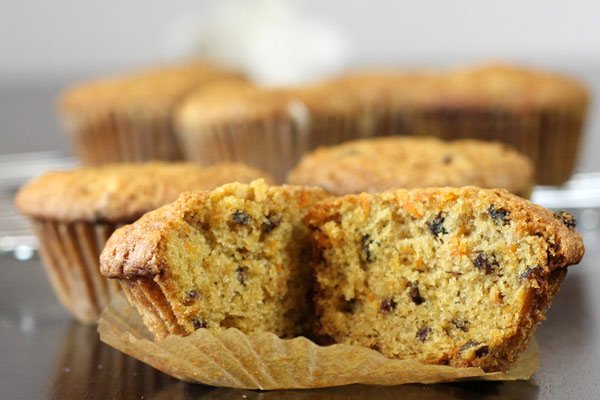 These carrot muffins are filled with raisins and chopped walnuts. A flavored orange butter or cream cheese would be fantastic with the muffins. See the tips below the recipe for a quick orange cream cheese spread.
Related:
Coconut Carrot Bread
Carrot Applesauce Cake
Prep Time: 15 minutes
Cook Time: 20 minutes
Total Time: 35 minutes
Ingredients:
Instructions:
Preheat the oven to 375 F.
Line a 12-cup muffin pan with paper liners. Heat orange juice just to a simmer on the stovetop or in the microwave. Add raisins or currants and remove from heat. Set aside.
In a mixing bowl with an electric mixer, beat the sugar with the vegetable oil, eggs, vanilla, and orange zest until well blended.
Combine the flour, baking powder, soda, salt, and spices in a separate bowl and blend with a spoon or whisk. Add the flour mixture to the first mixture and stir just until all of the ingredients are moistened.
Drain the currants or raisins and fold them into the batter with the chopped walnuts and grated carrots.
Fill muffin cups about two-thirds full; bake in the preheated oven for 18 to 23 minutes, or until a toothpick comes out clean when inserted into the center of a muffin.
Tips

To make an orange flavored cream cheese spread, combine about 1/2 cup of cream cheese with 2 tablespoons of powdered sugar, 1/2 teaspoon of vanilla, and the zest of half of an orange. Beat with an electric mixer until smooth.

Makes 12 servings.
Site Search