Buttermilk Pie Crust
by
, December 24, 2017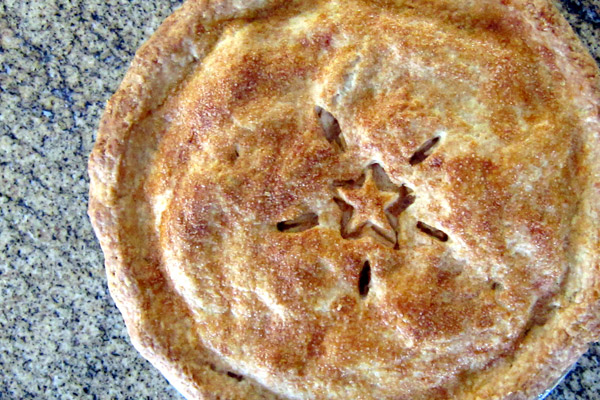 Buttermilk improves the flavor and texture of this pie crust. The pastry is mixed by hand or in the food processor with a combination of butter and shortening (or lard). This piecrust is an excellent choice for just about any pie. I used this pastry to make the pictured apple pie.
Related:
Cream Cheese Pie Crust
Prep Time: 20 minutes
Cook Time: 0 minutes
Total Time: 20 minutes
Ingredients:
Instructions:
In a food processor or large mixing bowl combine the flour, salt, and granulated sugar; stir or process until well blended.
Add the 8 tablespoons of butter and lard or shortening pieces and pulse about 12 to 15 times, or until the mixture resembles crumbs and there are still some small pea-size pieces of fat. Or work the fat in with your fingers or a pastry blender. Sprinkle 3 tablespoons of buttermilk over the mixture and toss or pulse to moisten. Add more buttermilk in small amounts, tossing or pulsing just until the dough begins to clump.
Pour the dough mixture out onto a floured surface and knead a few times. Don't overwork the dough.
Shape the dough into two disks and wrap each in plastic wrap. Chill for 20 to 30 minutes.
Bake as your pie recipe directs.
Makes 8 servings.
Site Search