Bourbon Glazed Pork Tenderloin
by
, May 9, 2017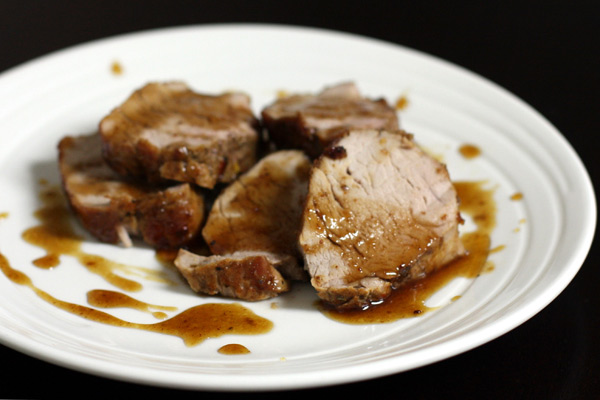 Pork tenderloin is roasted and seasoned with a spiced brown sugar, cola, and bourbon glaze.
Prep Time: 10 minutes
Cook Time: 35 minutes
Total Time: 45 minutes
Ingredients:
Instructions:
In a small saucepan over medium heat, combine the cola, brown sugar, orange or lime juice, ginger, cinnamon, pinch of salt, mustard, and bourbon. Bring to a boil; reduce the heat to low and simmer for about 5 minutes.
Heat oven to 350 F.
Heat olive oil in a large skillet over medium heat. Trim any visible fat from the tenderloins and remove silver skin. Rub the pork all over the the salt, chili powder, cumin, and black pepper.
Sear the pork in the olive oil, turning to brown all sides. Transfer the pork to a lightly oiled baking pan -- leave in the skillet if the skillet is oven-safe. Roast for about 12 minutes; brush generously with the bourbon mixture. Continue roasting for about 10 minutes longer, or until the pork registers at least 145 F on an instant read thermometer inserted into the thickest part of a tenderloin. Let the pork rest for about 5 minutes before slicing.
In a small bowl or cup, combine the cornstarch with cold water. Stir until smooth.
Bring the glaze mixture back to a boil; stir the cornstarch mixture into the glaze and continue cooking until thickened.
Slice the pork and serve with the sauce.
Makes 8 Servings
Site Search