Basic American Chop Suey
by
, August 28, 2017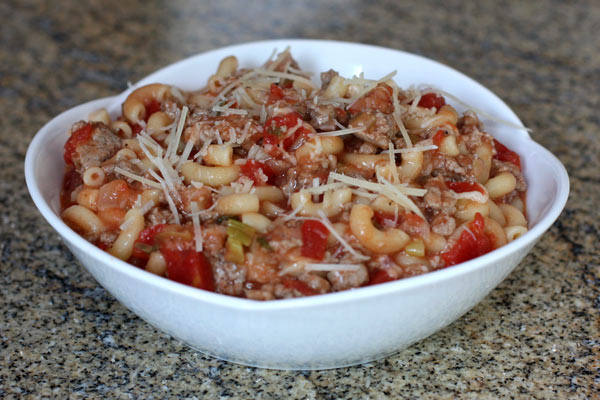 American chop suey -- also known as goulash or macaroni with beef and tomatoes -- is a popular American comfort food. Add extra flavor with about 1/2 cup of tomato sauce or a few tablespoons of tomato paste. For a baked casserole, add some shredded cheese and buttered bread crumbs.
Related:
Easy Bacon Cheeseburger Macaroni
Prep Time: 12 minutes
Cook Time: 25 minutes
Total Time: 37 minutes
Ingredients:
Instructions:
Heat the vegetable oil in a large skillet over medium heat. Add the chopped onion and cook for about 2 minutes, stirring frequently. Add the ground beef and bell pepper continue cooking until the beef is no longer pink. Drain off excess fat.
Add tomatoes to the skillet along with salt, pepper, and chili powder. Reduce heat; simmer for 10 to 15 minutes.
Meanwhile, cook the macaroni following package directions.
Add the drained macaroni to the tomato and beef mixture and blend well.
Garnish with shredded Parmesan or cheddar cheese, if desired.
Variations
Baked: If desired, transfer the chop suey mixture to a lightly greased casserole and bake with 1/2 cup of shredded cheese and buttered bread crumb (1 cup soft bread crumbs tossed with 2 tablespoons melted butter) for the topping. Bake at 350 F for about 25 minutes.


Makes 6 servings.
Site Search