Creamy Scalloped Potatoes
by
, Updated April 4, 2017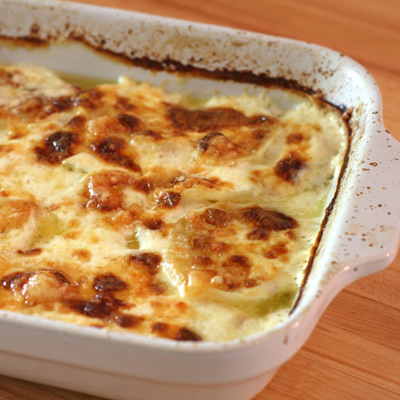 Gruyere and Parmesan cheeses add richness and creaminess to these extra special scalloped potatoes. They're made with Gruyere and Parmesan, a little garlic, cream, and red skinned potatoes.
Prep Time: 15 minutes
Cook Time: 55 minutes
Total Time: 1 hour 10 minutes
Ingredients:
Instructions:
Heat oven to 350 F.
Grease a 3-quart baking dish.
In a large skillet over medium heat, saute the garlic and onion in the butter for 2 minutes. Add next 4 ingredients, mixing well. Add potatoes and bring to a boil over medium heat.
Transfer to the prepared casserole dish. Add Gruyere cheese and top with Parmesan cheese.
Bake for 45 minutes, or until the potatoes are tender. Let stand for 10 to 15 minutes before serving.
Serves 4 to 6.

More Scalloped Potatoes
Scalloped Potatoes with Green Pepper and Ham
Au Gratin Potatoes
Basic Creamy Scalloped Potatoes
Vegetable Recipes Index