Fried Okra
by
, Updated April 4, 2017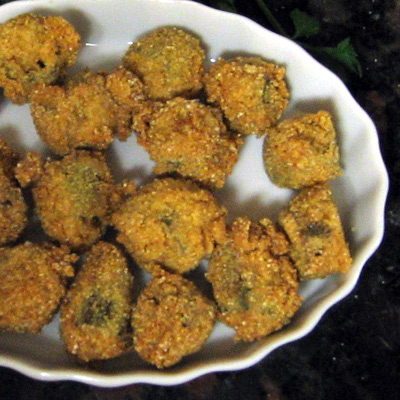 This basic fried okra is a southern favorite. Use fresh okra in this recipe.
Prep Time: 20 minutes
Cook Time: 20 minutes
Total Time: 40 minutes
Ingredients:
Instructions:
Wash okra and drain well.
Remove tip and stem ends and then cut the okra into 1/2 inch slices.
Put the okra in a bowl and sprinkle with salt; add buttermilk, stirring until well coated.
Let stand at least 15 minutes and then drain okra well.
Put the cornmeal in another bowl. Add okra pieces and toss to coat.
Deep fry okra in batches in hot (375 F) oil until golden brown; drain on paper towels.
Serves 4 to 6.


Adapted from Bell's Best Cookbook - Mississippi

Vegetable Recipes Index
Site Search