Featured Recipes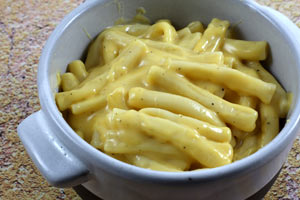 This Instant Pot macaroni and cheese is so easy and so creamy-delicious, you won't make it any other way from now on. Just add ingredients to the pot, let the pressure increase, and cook for 4 minutes! The pictured dish was made with catanisella lunga pasta, but elbows, fusilli, shells, or other pasta shapes may be used.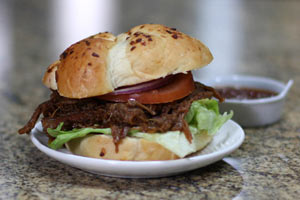 The homemade beer barbecue sauce flavors this easy slow cooker beef perfectly. Serve the barbecue beef in sandwich buns or slider buns or serve it along with mashed potatoes or mac and cheese.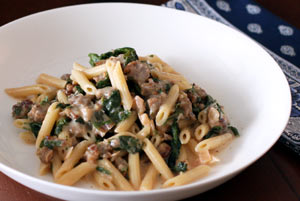 Cheese, sage, Italian sausage, and spinach make this a flavorful and earthy pasta dish. Feel free to use fresh chopped spinach or chard in the dish. Mushrooms would be an excellent addition as well. Add some along with the onions if you like. Fontina cheese would be excellent in this dish as well.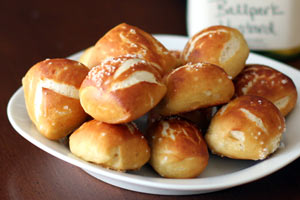 These little pretzel pillows make a fabulous game day snack with mustard or chocolate sauce for dipping. Or make them a little bigger and use them as slider buns. A stand mixer makes kneading super easy -- you could even use the bread machine to do the mixing and kneading.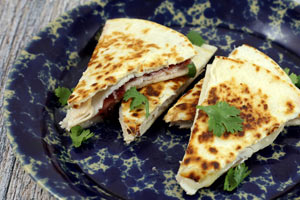 This complementary combination of turkey, cranberry sauce, and brie cheese makes a fabulous after-the-holiday quesadilla. It's a simple and unique way to enjoy leftover turkey, or use deli turkey and make it any time of the year.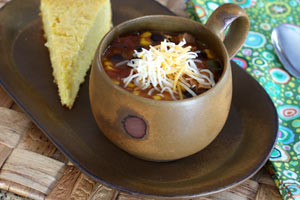 I used chicken thighs in this soup because they don't dry out like chicken breasts can, and they offer more flavor. The soup is full of chicken, beans, and vegetables along with Tex-Mex seasonings and spicy ingredients. Add some jalapeno peppers or use pepper jack cheese to top the soup if you like.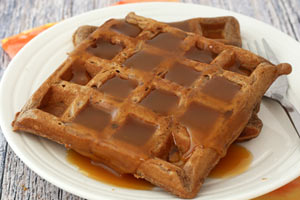 These waffles take just minutes to fix, and they make a fabulous breakfast or dessert with caramel sauce (pictured) or hot fudge sauce. They would be great with ice cream as well. Alternatively, top them off with a dollop of whipped cream and a maraschino cherry! These waffles would make a nice holiday or birthday breakfast. The kids will love them! Make two or three batches and freeze them.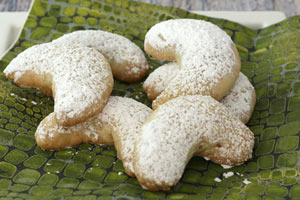 These almond crescents are essential holiday cookies, and they are so easy to mix and bake. The butter cookies have wonderful flavor and texture, and the coating of powdered sugar makes them look extra-special on a plate.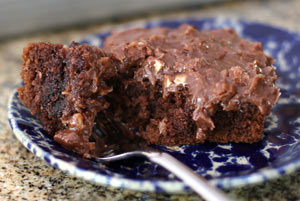 This amazing chocolate buttermilk cake is baked in one layer, and then it's topped with a simple, briefly cooked chocolate frosting. The frosting is filled with coconut and pecan, giving the cake an extra boost of flavor and texture. It's a moist and delicious cake you'll make again and again. The recipe comes from a vintage newspaper clipping.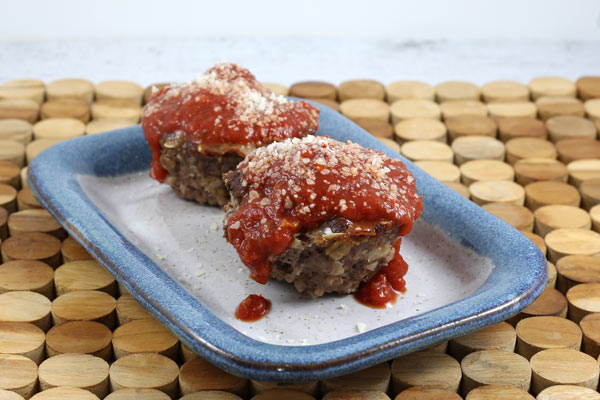 Shape this flavorful Italian-seasoned meatloaf mixture into a freeform loaf or make meatloaf muffins. The meatloaf mixture is flavored with Parmesan cheese and Italian herbs and seasonings. The pictured meatloaf muffins are topped with pizza sauce and Parmesan cheese.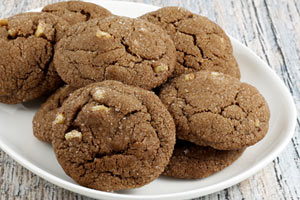 Some optional coffee or espresso powder intensifies the chocolate flavor in these chewy chocolate crackle cookies. The cookies are filled with chopped walnuts, but hazelnuts or pecans may be substituted. Or leave the nuts out altogether. The crackled look comes from the sugar coating.
This spaghetti squash is cooked and served with diced tomatoes, fresh basil, garlic, and Parmesan cheese. There are many ways to cook spaghetti squash. You can use a slow cooker, Instant pot, oven, or microwave. This version is made with the microwave oven, but feel free to use another method.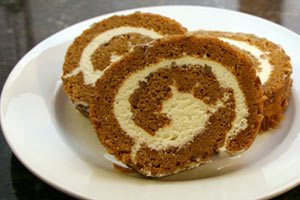 This pumpkin cake roll is always a hit. The cake is a pumpkin sponge cake that is rolled up with a cream cheese filling. The recipe is surprisingly easy to fix, and it never disappoints. If you take it to a dinner or party, take a few copies of the recipe!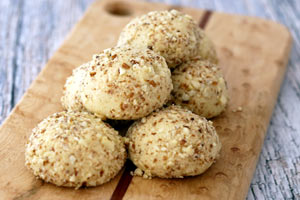 Finely chopped nuts coat these delicious little butter cookies. Macadamia nuts are called for, but feel free to substitute almonds, pecans, walnuts, or hazelnuts.


More New Recipes: