Featured Recipes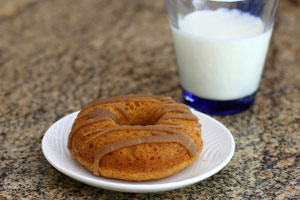 Here's an excellent way to enjoy the fall season! These pumpkin doughnuts are finished with a delicious maple glaze. The doughnuts take just a few minutes to prepare and bake. They're as easy to fix in the morning as a batch of pancakes.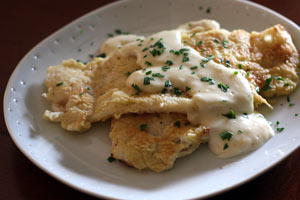 This pan-fried sole is served with a rich and creamy Parmesan cheese sauce. The thin sole fillets are dipped in a cornmeal batter and pan-fried to perfection in about 5 to 6 minutes. Prepare the sauce first and keep it warm until serving time.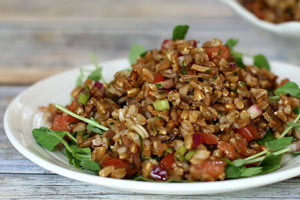 Farro, a versatile wheat grain, is similar to barley or wheat berries, and it can be an excellent addition to salads or soups. Since it doesn't become mushy over long periods of cooking, it makes a nice substitute for rice in slow cooker dishes.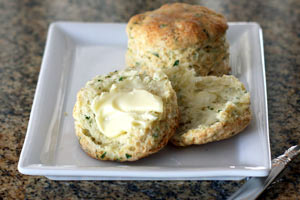 These biscuits are colorful and delicious. They're made with part olive oil and butter along with fresh chopped parsley. Other herbs may be added if you like. A few tablespoons of chopped chives, sage, thyme, or basil would be excellent. Or, add about 1/2 teaspoon of garlic powder along with the dry ingredients. They are excellent biscuits to serve with a hearty stew and they make a fabulous topping for a casserole or pot pie.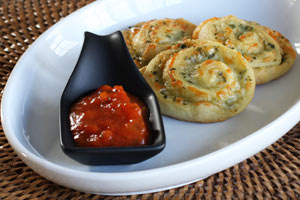 These easy crescent roll pinwheels are filled with a simple, flavorful mixture of prepared pesto and finely grated mozzarella cheese. Serve the pinwheels with warm marinara sauce for dipping. Feel free to scale the recipe up for a crowd.
Make this delicious baked chicken recipe with chicken thighs or whole legs. The chicken pieces are marinated and then glazed with a flavorful honey and peanut butter sauce. Serve the chicken with an Asian style noodle dish or this fried cauliflower rice.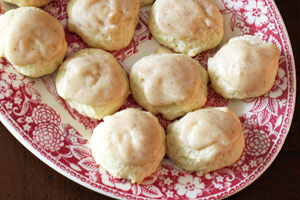 These soft, delicious ricotta cookies are iced with a brown butter icing. It just takes a few minutes to make the icing, and the flavor is amazing.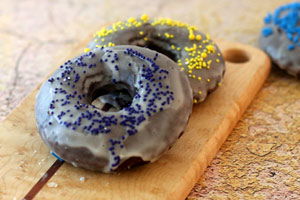 These chocolate doughnuts taste great and are surprisingly quick and easy to prepare and bake. I think the espresso powder intensifies the chocolate flavor, but feel free to leave it out. Doughnuts are a nice alternative to cupcakes, cake, or cookies, and they will satisfy that chocolate craving. The recipe is easily scaled up for a dozen or more.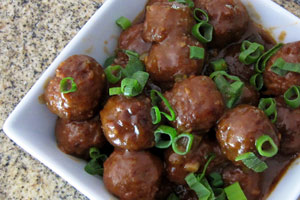 These meatballs are a snap to prepare and cook in the slow cooker. It's a simple "fix and forget" dish your family will love. Serve the meatballs with rice or noodles or make them for a party or tailgating event.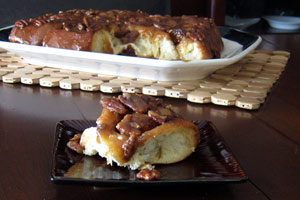 These homemade sticky buns are simply amazing. The buns make a fabulous breakfast treat for a weekend or holiday morning. The rich yeast dough is filled with a buttery cinnamon and brown sugar mixture. And the dough is made in advance, a real bonus when you need that time to be with family and friends.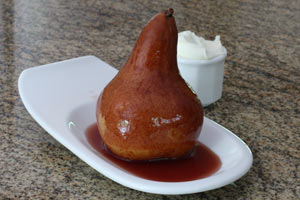 These elegant pears make a fabulous dessert for Valentine's Day or a special dinner. The pears are cooked to tender perfection in the slow cooker with a sweet red wine sauce. Serve them with whipped cream or cream cheese along with biscotti or butter cookies, if you like.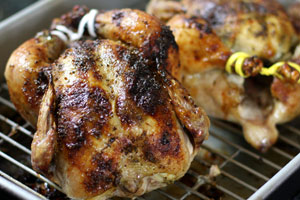 Prepared pesto goes under the skin of these game hens, providing wonderful basil and garlic flavor. Use purchased or homemade pesto in the recipe. One game hen weighs about 1 1/4 pounds, making it a good serving size for one person. If your game hens are larger or you are feeding small children, you might want to adjust the recipe. Scale the recipe down and make it with two hens for a lovely dinner for two.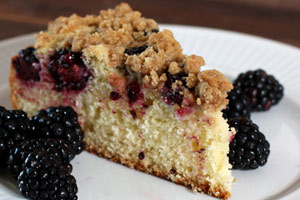 This blackberry crumb cake can be made with fresh or frozen blackberries. Serve it as a dessert with a scoop of ice cream or serve it as a breakfast cake. It's an excellent way to enjoy fresh blackberries.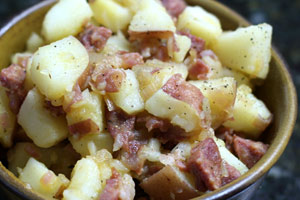 Spicy smoked sausage and Cajun seasonings take this potato salad to new levels. The warm potato salad is made with typical ingredients plus the andouille sausage and seasonings. Use milder smoked sausage in the salad if you'd like.


More New Recipes: