Mashed Potatoes
by
, Updated April 4, 2017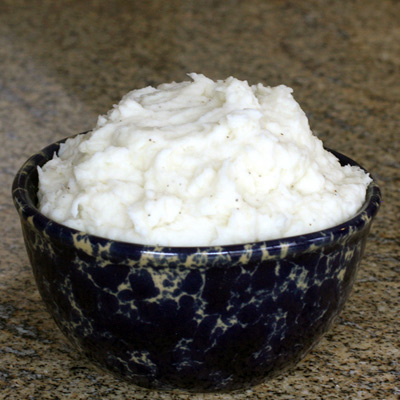 These mashed potatoes are made with red-skinned potatoes, but feel free to use half sweet potatoes or rutabagas for additional flavor and color.
Prep Time: 15 minutes
Cook Time: 20 minutes
Total Time: 35 minutes
Ingredients:
Instructions:
Cut the potatoes into uniform chunks and place them in a large pan. Cover with cold water and add the sea salt. Bring to a boil and cook until tender when poked with a fork, about 15 to 20 minutes. Drain the water from the pan.
Heat the cream, milk and butter over low heat; do not boil.
With a potato masher or large fork crush the potatoes in their pan, adding the cream mixture a little at a time. Season lightly with salt and freshly ground black pepper. Continue mashing until the potatoes are well blended.
There should still be some chunks left, with the red potato skins throughout the mixture.
Add more cream, milk or butter if necessary.
Taste and adjust seasoning, stir in the parsley and transfer to a serving bowl.

Related Recipes

Au Gratin Potatoes
Basic Mashed Potatoes
Vegetable Recipes Index

Site Search