Marinated Beef With Onions
by
, Updated April 23, 2017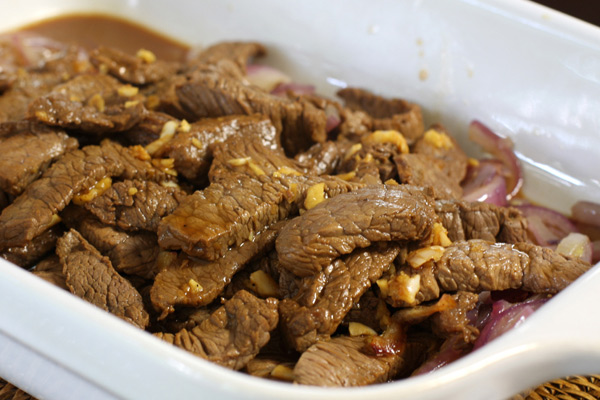 This simple dish is quick and easy to fix, and it's delicious with rice and a tossed salad. Allow 30 minutes extra for marinating the beef.
Prep Time: 9 minutes
Cook Time: 15 minutes
Total Time: 24 minutes
Ingredients:
Instructions:
In a glass or stainless steel bowl combine the beef strips with the soy sauce, lemon juice, pepper, sugar, and garlic. Cover and refrigerate for 30 minutes.
Heat half of the oil in a large skillet. Fry the sliced onion until softened; transfer to a serving platter.
With tongs, transfer about half of the beef strips to the skillet and cook for about 2 minutes, stirring, or until browned.
Arrange the cooked beef over the onions.
Repeat with the remaining beef strips. Add the marinade to the skillet and simmer for 1 minute. Pour over the beef and serve with rice.
Serves 4

Calories per serving:

302


Fat per serving:

14.1g



Site Search