Ham and Asparagus With Fettuccine
by
, Updated April 23, 2017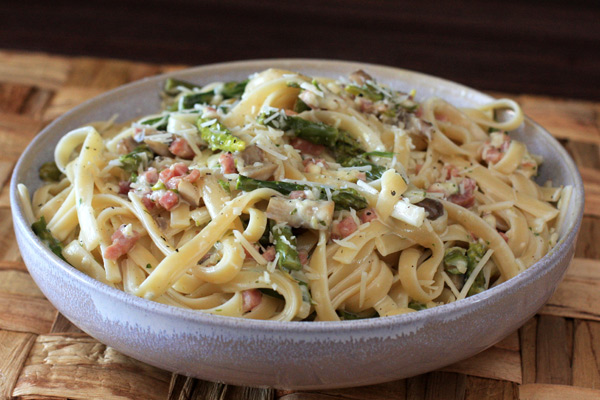 This tasty fettuccine is a great way to use leftover ham, or make this with a diced center cut ham steak. This pasta dish is made with fettuccine, diced ham, fresh asparagus, cream, and Parmesan cheese. Feel free to use frozen cooked asparagus in this delicious dish.
Prep Time: 7 minutes
Cook Time: 20 minutes
Total Time: 28 minutes
Ingredients:
Instructions:
Cook pasta following package directions, drain and rinse.
Meanwhile, saute the onion, ham, and mushrooms in butter until onion is tender and mushrooms are golden. Add garlic and cook, stirring, for 1 minute longer.
Add the cream, parsley, and pepper. Simmer, stirring occasionally, for about 5 minutes. Taste and add salt, as needed.
Toss the sauce with the drained fettuccine. Serve with more Parmesan cheese.
Serves 8

Calories per serving:

377


Fat per serving:

18.5g




More Pasta Recipes
Baked Pasta with Zucchini and Mozzarella
Easy Macaroni and Cheese Bake
Linguine Recipe with Zucchini, Mozzarella Cheese, and Vegetables


Site Search