Sesame Noodles
by
, Updated April 23, 2017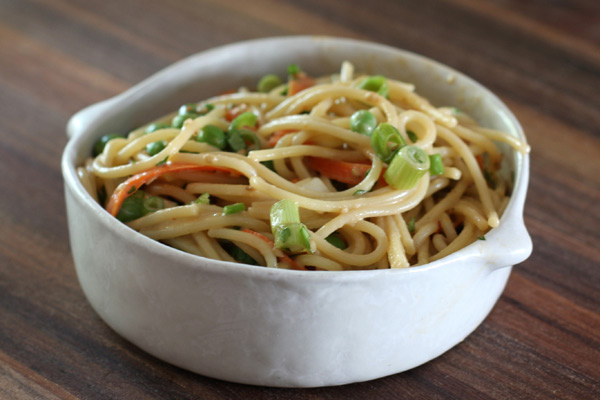 Flavorful sesame noodles are made with peanut butter, sesame oil, a little ham, and a variety of crunchy, nutritious vegetables.
Prep Time: 8 minutes
Cook Time: 10 minutes Recipe"PT10M">
Total Time: 18 minutes"PT18M">
Ingredients:
Instructions:
In a saucepan, cook spaghetti in boiling unsalted water. Boil for 4 minutes, then add broccoli and shredded carrots. Continue cooking for 5 to 10 minutes longer, until spaghetti is cooked al dente and vegetables are tender-crisp.
Drain spaghetti; return to the pan.
In a medium bowl, whisk together the peanut butter, rice vinegar, soy sauce, sesame oil, sugar, and 1 cup of hot water until the mixture is smooth. Add the ham and peanut butter sauce to the spaghetti mixture in saucepan. Toss well. Sprinkle with sliced green onions and chopped roasted peanuts.
Serves 6

Calories per serving:

475


Fat per serving:

14.4g



Site Search