Chicken Parmigiana
by
, Updated April 23, 2017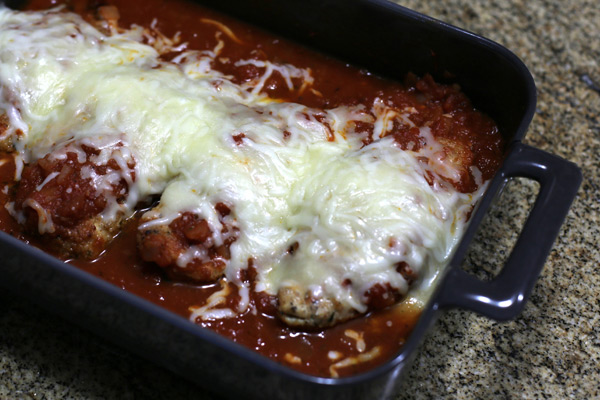 This chicken breast recipe is quick and easy, and the family will love it. I've made this recipe with turkey cutlets, and if you like, top the chicken with some sliced sauted peppers and onions before adding the sauce and Mozzarella cheese.
Prep Time: 15 minutes
Cook Time: 45 minutes
Total Time: 1 hour
Ingredients:
Instructions:
Wash chicken breasts and pat dry. Put a chicken breast half in a food storage bag or place plastic wrap over a chicken breast half; pound chicken lightly to flatten slightly to an even thickness. Repeat with remaining chicken. Set aside.
Line a baking sheet with foil; spray with olive oil spray or nonstick cooking spray.
Heat oven to 350 F.
In a food processor, grind the fresh bread crumbs together with Parmesan cheese, basil, parsley, and a dash of pepper and 1/4 teaspoon salt. Pour into a plate or shallow bowl.
Beat egg with the milk in a shallow bowl.
Dip chicken pieces in egg mixture then coat with crumb mixture. Arrange the chicken pieces on the baking sheet. Bake for 30 minutes, or until juices run clear when pierced with a fork.
In a 9-by-13-by-2-inch baking dish, pour about 1/3 of the spaghetti sauce. Arrange the cooked chicken on the sauce; pour remaining sauce over chicken. Sprinkle with Mozzarella cheese. Bake for 15 to 20 minutes longer, or until bubbly and cheese is melted.
Serve over hot cooked spaghetti, fettuccini, capellini, or other pasta.
Serves 4

Calories per serving:

427


Fat per serving:

15.6g



Site Search