Tuna Macaroni Casserole
by
, Updated April 16, 2017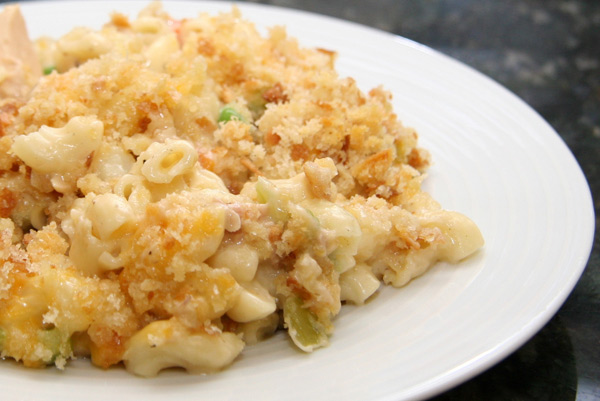 This flavorful tuna casserole is made with macaroni or shells, a chese sauce, hard cooked eggs, and bread crumb topping. Feel free to add a cup of steamed peas or mixed vegetables.
Prep Time: 15 minutes
Cook Time: 40 minutes
Total Time: 55 minutes
Instructions:
Heat the oven to 375 F.
Cook macaroni according to package directions; drain and rinse with hot water.
Turn the drained macaroni into a 2-quart buttered casserole.
In saucepan, melt 4 tablespoons of butter; stir in flour and cook for 2 minutes, stirring constantly. Gradually add the milk. Cook sauce, stirring, until smooth and thickened. Add salt, pepper, Worcestershire sauce, and 1 1/2 cups of the shredded cheese.
Chop eggs coarsely; scatter chopped eggs and flaked tuna over macaroni.
Pour cheese sauce over all.
Sprinkle with remaining cheese mixed with bread crumbs and remaining 2 tablespoon of melted butter.
Bake at for 30 to 40 minutes, or until browned and bubbly.
Serves 8

Calories per serving:

533
Site Search